DIY PSP Laptop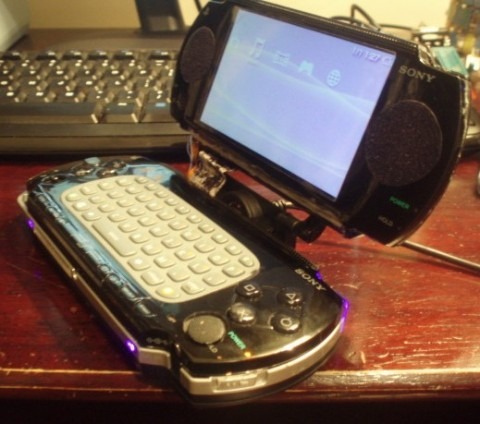 The PSP Go! is shaping up to be great, but it doesn't have a full QWERTY keyboard, does it.  Acidmods forum member folklord36's PSP Laptop does, though, courtesy of an Xbox Chat Pad, together with relocated speakers, LED lighting and more.
The screen section is a customized Joytech visor, which conveniently has the same finish as the PSP, and here donates its super-sturdy hinge that can be positioned at anything up to 180-degrees.  That takes the LCD and the PSP's original speakers, which are repositioned to the large holes either side.  Normal earphone fabric covers them up.
Meanwhile the rest of the PSP – now with the QWERTY keyboard – remains on the bottom, only with some new LED lighting.  A custom flat cable extension connects the LCD ZIF port to the screen itself.  No word on how long it took him, nor how much he spent, but this is certainly a unique PSP.
[via Hack a Day]