DIY Open-Source Calculator Watch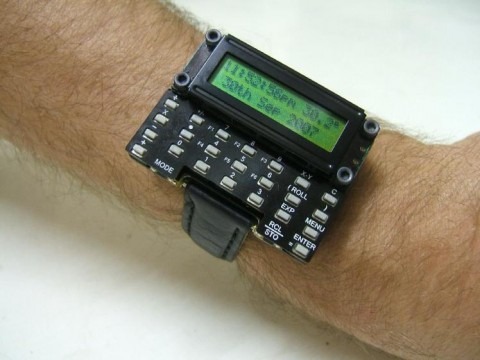 It says a lot about me, I suppose, but when I was younger I thought a calculator-watch was possibly the coolest thing you could have on your wrist.  Pro-electronics engineer David Jones obviously feels the same way, as he's replaced his broken Casio CFX-400 scientific calculator watch with a DIY μWatch based on a 16-bit microprocessor, two-line 16-character display and full keypad.
David prioritized functionality over appearance, and ended up with something somehow even more cool.  Scientific calculations are the very least the μWatch can do: since it has a programming port, universal I/O port, optional IR interface and 60 x 1024 step macro memory, there's a vast variety of things you can load up in its 64KB of flash program memory.  MAKE suggest a TV remote control, wrist-mounted games console, or controller for other user-designed devices.
A shortage of parts is holding up David's sales of the watch – the first two batches sold out already – but he'll also eventually be offering a full parts kit for $115.  Alternatively, download the complete schematic and the GPS source code and make your own.
[via MAKE]