DIY Gamepad Attachment For Sony UX UMPC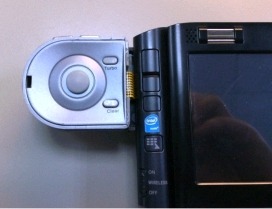 Sony's UX UMPC might be capable of playing games in hardware terms, but while the controls are great for an ultraportable handheld they're not so useful for Unreal Tournament 2004.  Owner Dan Middle decided he wanted a better interface, and so hacked up a cheap USB gamepad.  With the controls fixed back to back, all eight buttons are available to just one hand, leaving the other for aiming with the UX's mouse control.
Check out the video of Dan's setup in action after the cut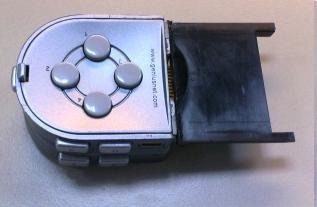 The gamepad – a "Genius MaxFire Pandora Pro Foldable Mini USB Gamepad for PC" – is fixed to a compact flash dummy card, which slots into the UX's CF port.  Meanwhile the USB port just underneath is free for the gamepad itself.  It means that Dan can hold the UMPC while still gaming, rather than needing to set it down on a table.
Usability is good, apparently, with Vista recognising it as a gaming peripheral.  A really useful hack, and as Dan says, in terms of graphics the UX "blows the PSP away!"
[via UMPC Portal]