DIY Doctor Who Weeping Angel costume looks terrifyingly good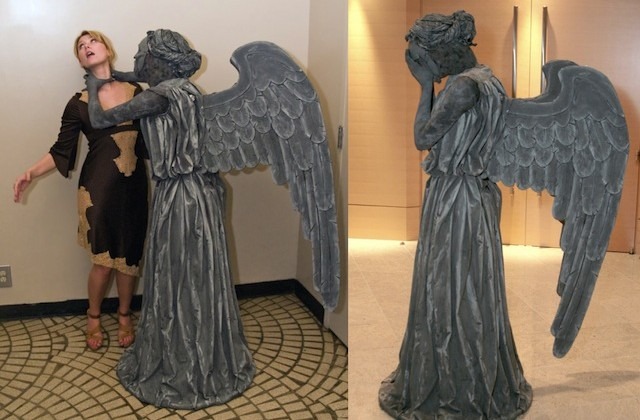 We don't tend to feature fan costumes very often – they have to be pretty impressive to get past our gadget-obsession, after all – but Replica Prop Forum member penwiper's Weeping Angel costume based on the creepy Doctor Who aliens is certainly enough to get our attention.  Created for DragonCon 2008, it even caught the attention of Firefly star Jewel Staite, who you can see getting strangled here.
The Weeping Angels, in case you're not a Who fan, made their debut in the award-winning episode Blink. The story behind the statue-resembling monsters is that, when you're watching them, they're immobile stone, but if you look away – even if just to blink – they come to life and attack.
As for penwiper's costume, she used carefully painted fabric for the DIY "stone" dress, foamcore posterboard for the wings and two masks for the different angel faces.  Impressive stuff, but not something we'd like to accidentally stumble across in a darkened hallway.
[via Twitter; Jewel Staite image by Ray Radlein]