DIY ASUS Eee PC 900HA touchscreen upgrade tutorial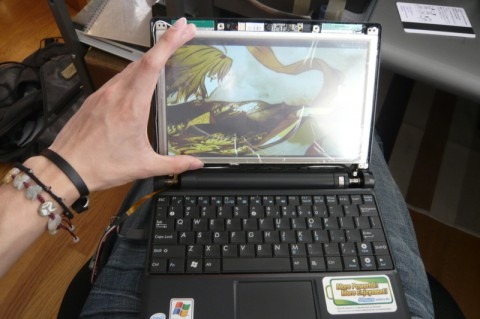 Some of our most popular netbook pages here on SlashGear are those describing DIY touchscreen projects, where a touch-sensitive layer is added to the budget ultraportable's display.  There are already kits available on eBay and elsewhere offering straightforward 7- and 8.9-inch panels, but what we've lacked to date is a really simple tutorial – something that takes you from stock Eee PC to touchscreen marvel.  Happily, courtesy of argentum, such a guide is now available.
It's no insult to say that argentum is a beginner – he says so himself – and that makes for a fantastically detailed tutorial as he adds a touchscreen to his ASUS Eee PC 900HA.  The touch-sensitive panel itself cost $56, and other than that you simply need a screwdriver, a thin piece of plastic, some tape, wire, and the confidence to void your netbook warranty.
Of course, the easiest way to get a touchscreen netbook is to wait until ASUS' own Eee PC T91 begins shipping.  That will also have the benefit of a convertible hinge, allowing you to use the netbook in slate-orientation, plus the company's new Touch UI.  But if you'd rather use your existing netbook, and you don't mind taking a little risk, the DIY route could be a whole lot more entertaining.
[via GenerationMP3]