Disney Sakar AppClix camera for iPad starts influx of reasonable shooters for the slate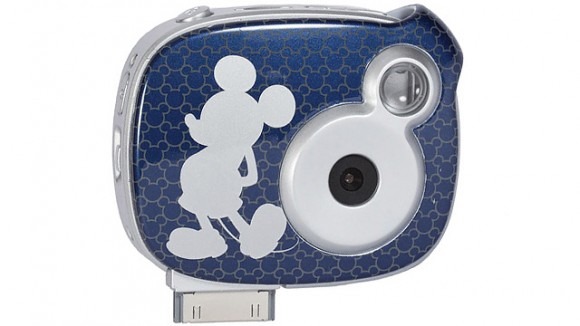 When you pick up an iPad 2, you know you're in for a great experience in all forms of working with the tablet form factor – in software, in hardware, and in camera-wait, the camera is terrible – that's why when the Disney-branded Sakar AppClix camera came up this week in our news barrel, we payed attention. What this camera does is attach to the bottom of your iPad in the iPod 30-pin port and acts as a camera that begins to bring you into a reasonable space for shooting photos and videos. While the iPad 2's camera was never one to win any awards for quality, Sakar may well bring the art back to iPhone levels with none other than Mickey Mouse himself.
This camera is 7-megapixels strong, has a 1.5-inch LCD display for one reason or another, and has a microSD card slot for those of you not planning on instantly transferring your pics over to the iPad. Indeed you do not have to have the camera attached to the iPad to take photos, but if you want to hold the most awkwardly broad shooter in the world, complete with the most famous mouse in the world as well, feel free! This device will set you back $60 USD and works with a free app you can download from the iTunes Appstore.
The app allows you to do basic edits and add all sorts of Disney-themed graphics and backgrounds and all that good stuff, the transfer process from camera to app to Facebook, email, etcetera, seeming to be quite simple. You can do a similar transfer process if you've got Apple's Camera Connection kit, but it's not nearly as fun then is it? In this Mickey Mouse shooter you've got as close to an iPad-based quality camera experience as you're going to get (until the iPad 3 rolls around, of course.)
[via Gizmodo]