DirecTV and Viacom kiss and make up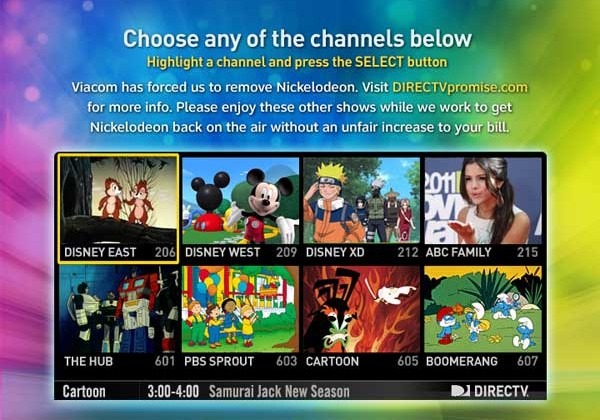 We've been following the negotiation battle between DirecTV and Viacom for over a week now. Viacom forced DirecTV to pull all of its networks, including Nickelodeon and Comedy Central, from the DirecTV lineup. The reason Viacom had its networks removed from DirecTV had to do with contract negotiations. According to DirecTV, Viacom wanted what amounted to an extra billion dollars in licensing fees.
Viacom has announced today that it, and DirecTV have reached a new agreement that will see all 26 Viacom networks, including Nickelodeon and Comedy Central among others return to DirecTV. Word surfaced yesterday that talks between the two companies were at an impasse because Viacom slipped in a requirement for its EPIX network to be picked up at cost of about $500 million.
DirecTV apparently backed out of the deal when that condition was added. Viacom says that DirecTV has an option to add the EPIX network to its lineup. That would seem to indicate that Viacom backed off the requirement for DirecTV to add the service in order to get the other networks back. This is good news for people on DirecTV. I know my daughter will be happy to get SpongeBob and Victorious back. Terms of the new deal aren't available.