Viacom and DirecTV talks have hit a wall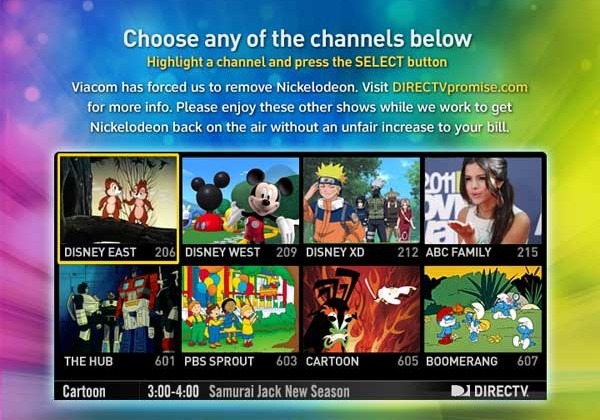 It's been little more than a week since Viacom pulled a bunch of its channels, including kids programming on Nickelodeon, from the DirecTV service after contract negotiations failed. Viacom and DirecTV have been conducting talks in hopes of coming to an agreement on a contract that would bring the channels back to DirecTV customers. Viacom is now saying the talks between it and DirecTV have reached an impasse.
According to DirecTV, it had agreed on major points for a new fee agreement that would restore Viacom channels to its network and the deal was close to a finished. DirecTV says that Viacom then demanded its movie channel Epix be included in the deal. According to DirecTV Viacom wanted an additional half billion dollars for Epix.
I mentioned before, as the parent of young child who loved programming on Nickelodeon that I wasn't happy at all, and neither was my daughter, about Nickelodeon being taken away. Now that we're about a week on the other side of no Nickelodeon programming available, my daughter has found other shows to watch during TV time. What Viacom has done is give Disney Channel and its programming a chance in my house. My daughter never watched Disney Channel while Nickelodeon was around, but she has switched now and hasn't asked when SpongeBob will come back in days. I'd wager there are many homes where the same thing is taking place. I hope this contract tactic blows up in Viacom's face.
[via BusinessWeek]