Director Paul Feig reveals Ghostbusters' new car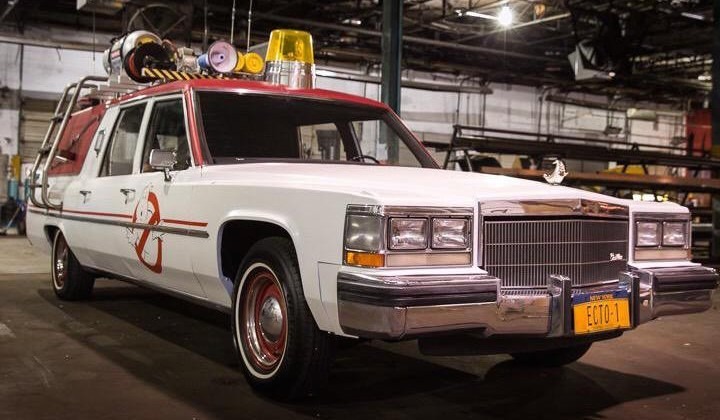 Movie fans looking forward to the upcoming Ghostbusters reboot better start paying attention to director Paul Feig's Twitter account more often, as he seems intent on giving us our first look behind the scenes. A little over a week ago, Feig shared the first photos of the iconic overalls costumes the four Ghostbusters will wear, along with the backpack-worn proton packs. Now he's shared the updated version of the heroes' car, the Ecto-1.
The car in the first Ghostbusters movies was known for being based on the 1959 Cadillac Professional. The new Ecto-1 has a similar overall shape and design, but looks more like a car from the mid-80's and ditches Cadillac's tail fins. Other than that, it features the same iconic white paint scheme with the Ghostbusters' logo on the side, and plenty of lights and sirens on the car, along with the side-mounted ladder.
#whattheygonnadrive pic.twitter.com/bBLEhrfTEQ

— Paul Feig (@paulfeig) July 8, 2015
Feig even responded to a request from a fan shortly after posting the first picture, this time tweeting a look at the back of the car. Better heed that warning sticker and stay back!
@szewcik_james Okay. pic.twitter.com/sHkx1Soj6p

— Paul Feig (@paulfeig) July 8, 2015
The new Ghostbusters movie won't be hitting theaters until next summer, on July 22nd. The reboot stars Melissa McCarthy, Kristen Wiig, Kate McKinnon, and Leslie Jones as the all-female team of Ghostbusters, while actors Andy Garcia and Michael K. Williams (The Wire) have just been announced as joining the cast. Now Feig just needs to cool off on the big reveals for a while, or else risk spoiling the whole movie.