DignLab AIO A1 thin-bezel Atom touchscreen nettop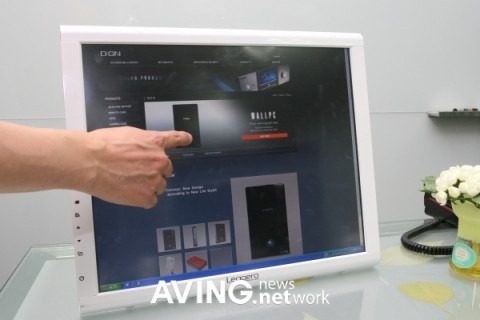 Most of the touchscreen nettops we've seen – ASUS' Eee Top, MSI's Wind Top, etc. - have been physically very similar, so it's nice to see Korean firm DignLab thinking a little differently with their own 19-inch all-in-one.  The DignLab AIO V1 shrinks down its aluminum bezel to super-skinny dimensions, making the Intel Atom-based nettop look more like a digital photo frame than a PC.
Of course, if you take the nettop guts out of a heavy chin section then they have to go somewhere, and in the AIO A1's case that's a protruding block out back.  The all-in-one is deeper than rival systems, at 3.8-inches, to accommodate the Mini-ITX mainboard, unspecified Atom CPU and 3.5-inch hard-drive.
There's also no optical drive, but you do get integrated 5W stereo speakers, two USB 2.0 ports, audio in/out and a custom 170W power supply.  The 19-inch display runs at 1280 x 1024 resolution, and the whole thing is available in four colors: pearl white, pearl black, anodized black and anodized silver.
The DignLab AIO A1 is priced at the equivalent of $300 in Korea.  No word on whether it'll see a release outside of the country.
[via AVING]