DigiTech iPB-10 Programmable Pedalboard for iPad 2 revealed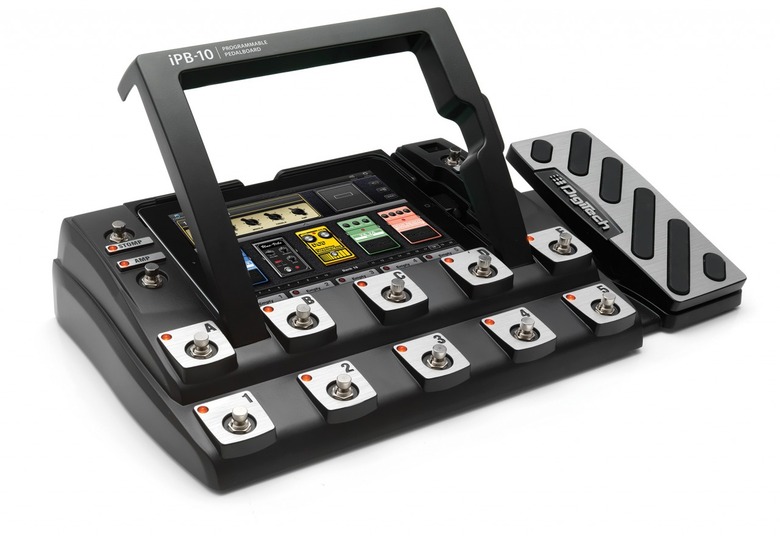 This week the the DigiTech iPB-10 has been revealed, a digital pedalboard which will allow your iPad to play host to several music pedals at once. Inside with your iPad running the official app for this device as its plugged into the device itself, you'll have access to 87 different pedals, 54 amplifiers, and 26 cabinets, all at a flick of your finger. What more could you want? And don't say a DJ station, because that's separate, and we've done that before as well — read on for guitar iPad action!
What we've got here is your ability to drag and drop up to 10 different pedals to each pedalboard available on your screen. Your iPad is connected to the iPB-10 station you see above and with each pedalboard you've got the option to add an amp or cabinet. You can save up to 100 pedalboard setups with a tap of the finger, and recall them "with a stop of a foot." How convenient!
Have a peek at the virtual tour of this device here:
Then note the cost of this device: $499.95. That's nearly as much as an iPad 2 costs today, and though both the iPad and the iPad 2 work with the station, we've got to wonder if such a device is worth the cash? Here's the key: these days a device like this will be made with such quality that it certainly will be worth the money, and comparing the price to the iPad doesn't make as much sense as it used to because the iPad, instead of being the main device, is here only a component of said device. You could use this device for a real live concert, no problem!
Let us know if you can see this sort of device playing a part in your everyday music career, and behold the action above.