DigiLife iOne Android Tablet Packs Pico-Projector [Video]

The tablet market is gradually growing, but if DigiLife have their way it'll go hand in hand with pico-projectors.  Charbax over at ARMDevices has been prowling the Computex floor, and has come up with the DigiLife iOne, a 10-inch capacitive touchscreen Android tablet that also has an integrated VGA-resolution pico-projector.
Video demo after the cut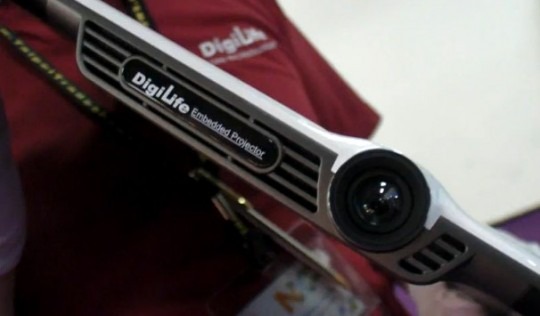 The iOne – which is currently in mock-up form, and was non-functional at the show – will run a Samsung Cortex A8 processor, and have USB connectivity as well as dual microSD ports.  DigiLife reckon they're about 80-percent of the way to having a working prototype, and could be up and running with it in around a month's time.
Still to be decided is what sort of pico-projector may be used, with the company representative saying they've been approached by various firms trying to push different technologies.  Best of all – and perhaps most unbelievable – is the estimated price: DigiLife reckon the iOne tablet alone (i.e. without the pico-projector) could come in at under $200, while adding in the projector functionality would take it to around $280 to $300.  That seems pretty unlikely to us, but we'd love to be proved wrong.