DigiLife DDV-JF1 HD camcorder with integrated pico-projector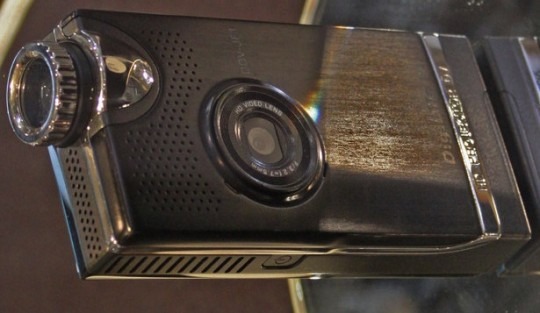 No, not a pico-projector with a porthole, but DigiLife's DDV-JF1, the first point-and-shoot pocket camcorder to also integrate a mini projector.  Similar in concept to the Nikon Coolpix S1000pj, only concentrating on moving pictures rather than stills, the DDV-JF1 can record up to 1280 x 720 30fps video in H.264 format to SD cards (up to 32GB supported), then display it via the pico-projector hardware at the end.
Unfortunately, like with the Nikon, the projection hardware can't quite keep up with the recording optics.  DigiLife's pico offers 640 x 360 resolution and 8 lux, so you'll be missing out on detail; better, perhaps to stick with the integrated 2.5-inch LCD.  Other shooting modes include 848 x 480 at 60fps and 320 x 240 at 30fps, though it's worth noting that it's a fixed-focus lens and the 3x zoom is digital not optical.
Still, those last points are pretty par for the course with entry-level pocket camcorders, so you're not missing out too much over direct rivals.  Where things will likely get interesting is the price; DigiLife aren't saying how much the DDV-JF1 is going to cost, but we fully expect it to edge unpleasantly into true HD camcorder levels given the hardware they're trying to include.
[via Pocket-lint]