Digg Reader goes public, Android app still pending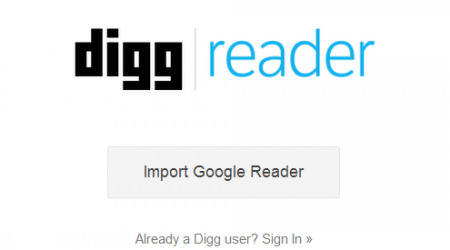 When Google announced out of the blue that it would be shutting down its Reader service, a lot of cries arose, and amidst them was Digg's with a claim that it would step in with its own service. The company has been cranking away at its software, having made the iOS app available earlier this month. Now the the Web version is available, with only the Android app pending.
According to Digg, it has spent the last week testing and scaling the service, having tossed various batches of test users into the mix while adding improvements to the infrastructure as necessary. All of that has culminated into a publicly available reader a couple days ahead of Google Reader's untimely demise. When you fire it up for the first time, you'll have an option to pull your Google Reader feeds over.
Digg says as of last night, the company was crawling in excess of 3 million feeds, having bumped that number in about 24 hours to 4.5 million, with the numbers continuing upwards from there. Despite this, says the company with a proverbial toss of salt over the shoulder, there hasn't been any issues with site stability or speed.
This is the initial launch, and as such users should expect to see changes and improvements come over the weeks. A handful of upcoming improvements have already been laid out, having been garnered from feedback given by the first batches of test users. Among them is a "View Unread Items Only" options for both feeds and folders, making it easier to sort through new content.
There will also be a "Mark as Unread" button for those who accidentally click on something or want to have it catch their attention the next time they're browsing. And finally, the feeds and folders "unread" counts will be updated so that they show accurate counts, with the current counts apparently being less-than-accurate. The company is seeking more feedback, so if you like what you see and want your voice to be heard, head on over via the link below.
SOURCE: Digg