The newest in a line of (two so far) Diesel smartwatches running Wear OS was revealed today at IFA 2018. This was the Diesel Full Guard 2.5, a smartwatch with a 47mm x 56mm casing – that's pretty gosh-darned beefy. But the display isn't any larger than most other smartwatches on the market today.
The Diesel Full Guard 2.5 rolls with four different hardware combinations – all with the same features inside. There's a gunmetal steel case with 3-link bracelet. There's a black steel case with black silicone strap. There's a gunmetal steel case with brown strap. There's steel case with a black leather strap. There's – oh that's it.
• Gunmetal Steel Case with blue accents – Brown Strap
• Gunmetal Steel Case with black accents – 3-link Bracelet
• Black Steel Case with red accents – Black Silicone Strap
• Steel Case with black accents – Black Leather Strap
So that's actually three different casings – two versions of the Gunmetal (with different accents), four different straps. The straps aren't the sort you're going to be switching out very often, and you'll be given a few Diesel watchfaces right out the gate. That's a practice similar to several other high-end Wear OS watches released over the past few years.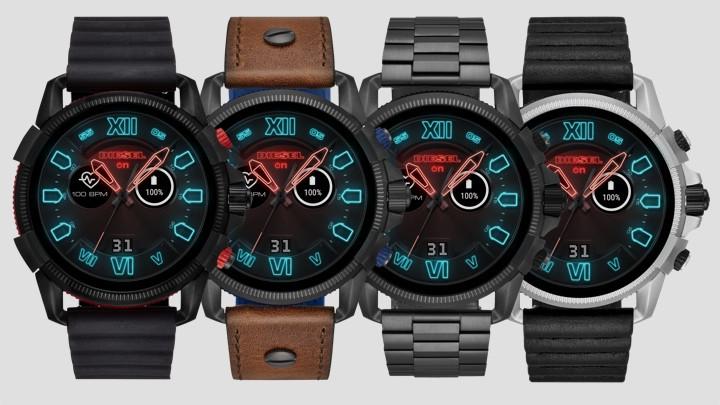 This version of the watch will come with the new edition of Wear OS revealed earlier today. It'll also have built-in GPS, 4GB internal storage, and a battery that will apparently last between 1-2 days on a single charge. That's par for the course for most Wear OS smartwatches on the market today.
This device has a heart-rate tracker and 3 ATM waterproofing. This device isn't quite as rugged as the Casio watches revealed earlier today – but they're not going to break if you take them out in the rain.
These watches will be released in October of 2018. At this time we've gotten no word on their pricing, but it would not be shocking to see them take on the same price as their predecessors – somewhere between $325 and $400 USD. It's all that heavy metal!