Did a box of Crayons throw up or is that the new Pentax K-x DSLR?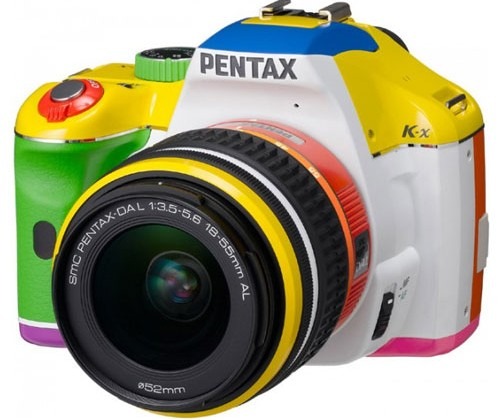 I can understand that camera makers want their new offerings to stand out in the crowd of cameras with basically the same features. However, Pentax is starting to take the brightly colored camera offerings to the extreme. Take the new Pentax K-x unveiled today that will be a Tower Records exclusive in Japan.
The camera is clad in just about every hue you would find inside a box of crayons. The rainbow effect is far from pleasing to most eyes and looks like a kid's toy. If you thought the Korejani version we say back in October 2009 was ugly; it has nothing on the new rainbow version.
Other than the retina searing colors, the K-x is the same DSLR that Pentax has been peddling for a while now limited to a run of 1000 units. It will retail for the equivalent of $810 and won't be offered outside of Japan. It has a 12.4MP sensor, 2.7-inch LCD, and 720p HD video recording.