Diablo III Server Status page helps the war weary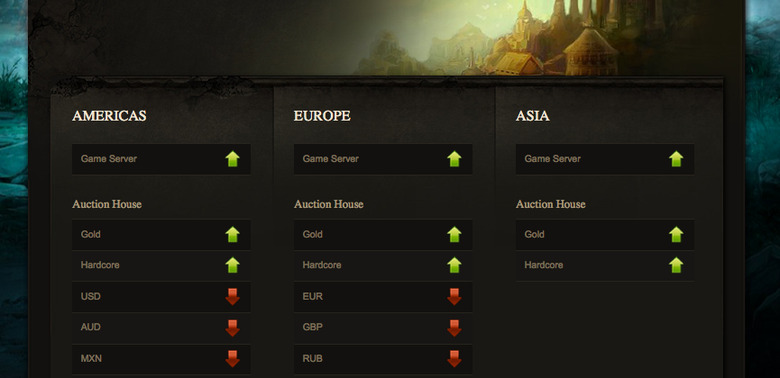 Since Blizzard is used to working with online players and has been providing online games for some time now, they've gone ahead and had Battle.NET (their main servers for all powerful games like Diablo III) set up a server status page for all players. What you're going to be able to see here is, if you've got a "server unavailable" message, whether or not the whole server you're used to playing on is actually down or if it's just you who is experiencing the outage. This is exactly the sort of page I would have loved to have had back in highschool for Diablo II, I can tell you that!
This server status page includes Battle.NET servers for Diablo III across the whole earth and currently divides sectors up into the Americas, Europe, and Asia. Whenever there's a giant outage, you can count on SlashGear to give you the whole 411 on the situation, but this Battle.NET dedicated Server Status page is always going to be your most accurate source for how up or down Battle.NET currently is. This site is up here on the second full day that Diablo III is live and we're expecting it to remain active throughout the lifetime of the game as it's played online.
This server status page works with Battle.NET's full range of support pages including the newest couple of Diablo III helpers: Diablo III Common Errors as well as Diablo III Information and Known Issues. Check these pages whenever you get an error or have trouble of any kind and find out what'll be best for you to get back into the game as fast as possible.
Have a peek at our Diablo III timeline below as well, and get online now – the game is live!