Dexim Shu-Lip USB adapter for iPod shuffle 3G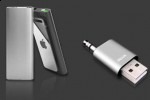 So far the most prevalent iPod shuffle 3G accessories we've seen have been headphones with in-line controls.  However Dexim are addressing another part of the iPod shuffle experience: syncing across your music.  Their bizarrely named Shu-Lip adapter lets you connect your shuffle up via USB without needing to carry a long cable.
The iPod shuffle 4GB's only port is a headphone socket, which uses an adapter 3.5mm plug to USB cable in order to synchronize with iTunes.  Given that plenty of people would rather not carry that cable around with them, the Dexim Shu-Lip adds a USB plug directly to the PMP's casing.
Constructed from aluminum and compatible with Macs and PCs for data transfer or any powered USB port if you simply want to recharge your shuffle, the Dexim Shu-Lip is priced at $9.90.  No word on when or where you'll be able to buy one, though.
[via iTechNewsNet]