Destiny set for Xbox 720, PlayStation 4, and PC in 2014

If you've heard anything about the upcoming "game changer" title set to be produced by Bungie over the next 10 years in installments with Activision, you know that it certainly wouldn't make sense for the whole series to be appearing on Xbox 360 and PlayStation 3. In fact the first installment will be on those two consoles, but essentially everything afterward has been confirmed in legal documents to be hitting no less than the PlayStation 4, the Xbox 720, and the PC. The information that reveals said bits and pieces comes from a Call of Duty legal dispute where the contract between Activision and Bungie had to be unsealed.
The full document comes from
but the important section is right here. You'll find "Destiny Game #2" to be the subject of production on the PlayStation 4 and Personal Computer, while the Xbox 720, Xbox 360, and PlayStation 3 are being set for the Destiny Game #1 release. This means – it would seem – that the PlayStation 4 won't be ready for action in time for the release of the first Destiny Game.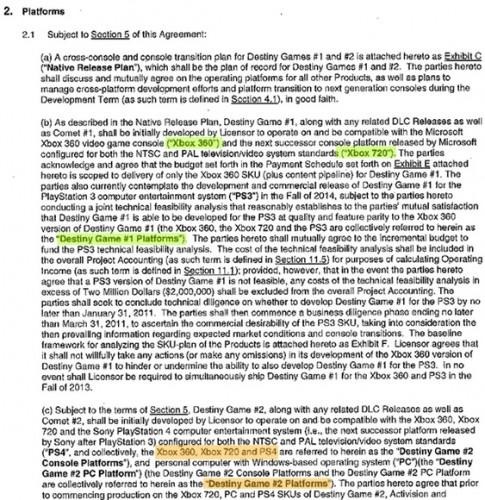 The folks at Bungie have been longtime Xbox developers having made one of the most successful gaming franchises in the history of the world with Halo, so it's not out of the question that they're simply going to hit the Xbox 720 first even if the PlayStation 4 will be out "in time" for one of the first Destiny installments. The fact that the first release is set for pre-order right this minute for PlayStation 3 and Xbox 360 has us wondering, on the other hand, how this contract figures in with the PlayStation event occurring this week – could it be that no PlayStation 4 will be shown?
Have a peek at the Destiny trailer above and see how the PC and mobile platforms – like the iPhone, in this case – will very obviously be taking part in the overall structure of Destiny and its many tendrils. This game will not be limited to one platform, nor will it be dependent on one piece of hardware for you to be able to play it. This is the next generation in gaming made real – anywhere, anytime. We wouldn't be surprised if this game were playable on
before all is said and done.