Destiny developer Bungie gives more details on leaving PS3, Xbox 360 behind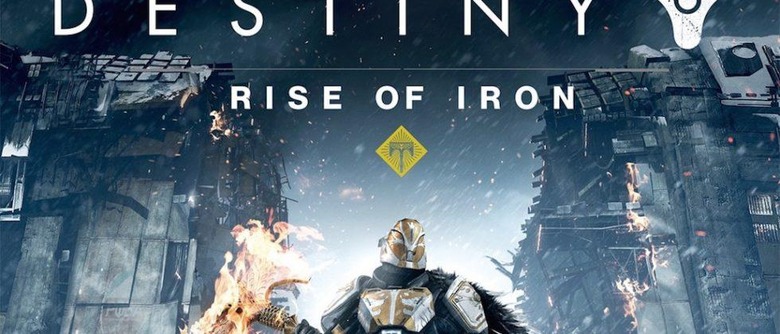 When Destiny's upcoming expansion, Rise of Iron, was officially revealed during a livestream just a few days before E3, developer Bungie clearly stated that the content would not be coming to the PlayStation 3 and Xbox 360, now referred to as "legacy consoles." In other words, all future development and releases would be exclusive to the PS4 and Xbox One versions of the game. Now Bungie has revealed more concrete details about how Destiny will work on those older consoles, and how players can migrate their progress to the current platforms.
First of all, to clarify, PS3 and Xbox 360 owners will still be able to play Destiny as it currently exists after Rise of Iron is released in September. The game will still run and activities like story missions, strikes, multiplayer modes, and even raids will remain playable. Likewise, characters and all the weapons and gear previously acquired won't be going anywhere.
However, there will be a couple small changes to Destiny on legacy consoles. Namely, after some point in August, the multiplayer events Trials of Osiris and Iron Banner will no longer be accessible on the PS3 and Xbox 360. Xur, the vendor that arrives once weekly with rare exotic gear, will also no longer sell specific armor or weapons. Instead he will sell exotic engrams that will give a random piece of gear from Destiny's first and second years, as well as the regular consumable items he offers now.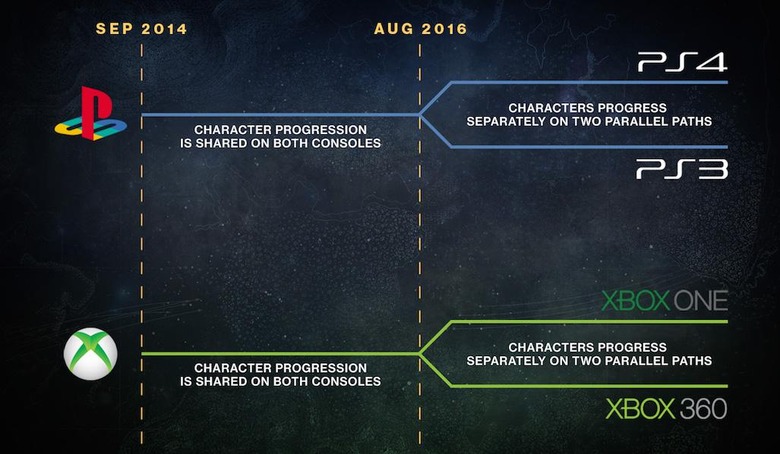 This currently unknown date in August will see an end to shared character progression within console families. In its current form, Destiny players have been able to switch back and forth between PS4 and PS3 versions (or Xbox One and Xbox 360) with all items, gear, and experience carrying over. But once this change is made, progress on the different platforms will be separated, so earning something on a legacy console won't make it available on the current generation platform.
Bungie has also posted a detailed support guide on its website for players planing to migrate to the PS4 and Xbox One version of Destiny in the near future. Again, later this summer, they will be able to log into their account on Bungie.net with PlayStation Network or Xbox Live credentials and import their characters and progress to the PS4 and Xbox One platforms.
Of course, in addition to upgrading their console hardware, players will also need to purchase a copy of Destiny: The Taken King for their chosen platform. This is also required to play Rise of Iron upon its release.
While it may sting for those Destiny players on legacy consoles to have to upgrade to continue enjoying the evolving game, it shouldn't really come as a surprise at this point. Almost every major developer and multi-platform release has dropped the last generation of consoles. It's also the best time to upgrade hardware at this point, as the PS4 and Xbox One have reached new low prices, especially the latter with Microsoft having announced the Xbox One S for later this summer.
SOURCE Bungie