Desktop Replacement Laptop Has RAID-5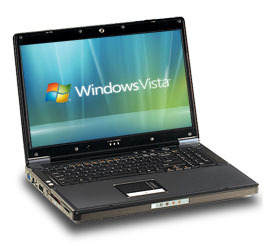 If you're looking for a desktop replacement and fancy a notebook then you might want to cast your beady eyes over Targa Computers' Raptor-60, which they're calling the "first of its kind" to support RAID 5 (in JBOD, RAID 0, 1 or 5 forms).  That for a start is going to make this something of a weighty beast, and when you add in a 17-inch WSXGA+ screen driven by a dual NVIDIA GeForce 7950 you realise that this isn't something you'll be tucking under your arm and swanning off to the park with.
Up to three SATA hard-drives can be slotted in, and a Blu-Ray drive is an option.  There're a range of processors, starting from a pretty boring Intel Core Duo 1.83GHz and ranging up to a 2.93GHz Core 2 Extreme.
Prices start at $2,345 although that only gets you half a gig of RAM, and lurch up to $5,481 for something massively over-specified – we're talking 4GB of RAM, a couple of fast 200GB hard-drives and Vista Ultimate 64-bit. 
An Intel a/b/g WiFi card, Bluetooth, 1.3-megapixel webcam and multi-format card reader are all included, and the whole thing weighs 8.9lb with the 6-cell Li-Ion battery (an 8-cell battery is an option).