Desk Pets Tankbot Review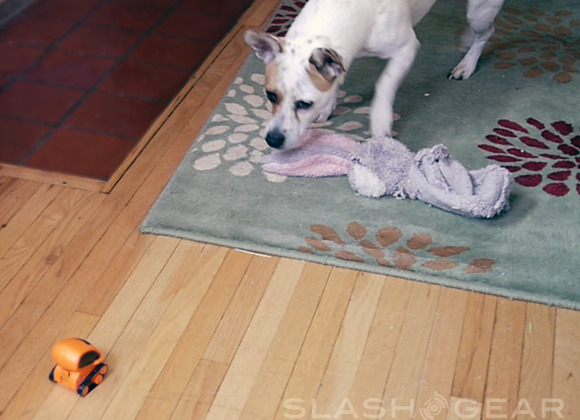 When it comes to radio-controlled miniature vehicles, essentially everything has been done over the past couple of decades – but low and behold, citizens, there is more to be done, and the tiniest of intelligences is going to do it: the TankBot. What we've got here is a couple of TankBots, both of them of the same lovely two tracks and one big ol' windshield model, and a smartphone per machine that'll control them from on high. What you're going to see here is that for under $30 USD, you can have such a tiny explosion of fun that only your dog will know for sure.
And your dog won't be the only one watching the action go down, your cat and your kid will have a fit as well. What you'll see in the hands-on video is the device running on one of its automatic modes, registering what's in front of it to make turns and back up and flip out squawking and beeping and flaring up lights, and that's not the half of it! This little beast gets a full 15 minutes of use per 40 minutes of charging, and the charging might be the cutest part of the whole equation. See that action up in the main picture? That's the tank plugged in with its fold-out USB stick into the side of our laptop PC. When it's charged to the top, it lets you know with a successful "blerp!"
In this case, the device is autonomous and does seem to enjoy pestering the pets, as it were – here are explanations of each of the three control modes:
Mode 1: In obstacle avoidance mode, the Tankbot searches for obstacles and does not travel in a straight line. If no obstacles are found, it spins around and goes to sleep. Waving an object within a few centimeters in front of the product will wake it up. If a climbing angle of Tankbot is too steep, it will reverse turn.

Mode 2: In light and sound mode, if a climbing angle of the Tankbot is too steep, it will reverse turn.

Mode 3 Control: iDeskPet Universal Remote must be aimed at the Tankbot from a distance of 1m to 3m and towards the front black screen of the Tankbot and not from behind. If the item is not controlled for more than 60 seconds, it spins around and goes to sleep.
This device can run on its own artificial intelligence via sensors dictating its path, or you can control it with your smartphone. A simple download and setup process will have you rolling around in no time, just a simple dongle deal with a couple of lights plugged into your smartphone's headphone jack has it connected with great ease. You'll notice in the official app that there's a small family of these vehicles growing as you tap, catch them all as the group expands! Now we've only to wait and see how long it is before these little beasts learn to fly or run in the water – boats and spaceships ahoy!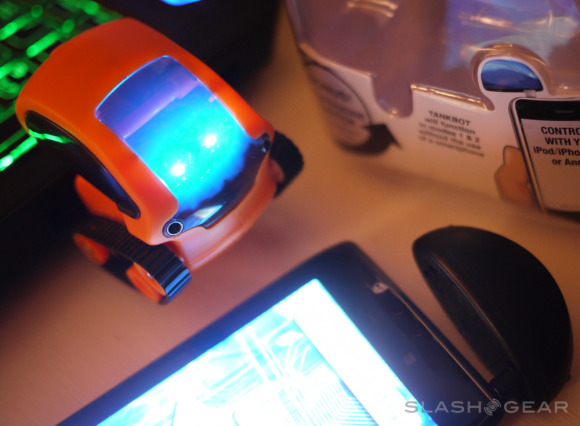 You can head over to RadioShack right now for the least expensive place to pick one of these up: $19.99 and a perfect stocking stuffer you shall have. Know what I mean?