Denon DVD-A1UD Blu-ray player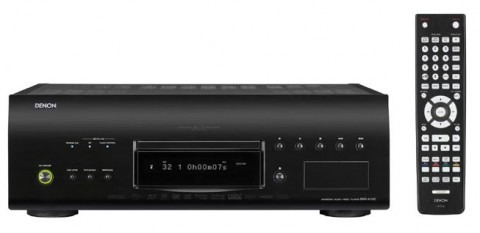 Given the ratio of DVD player owners to Blu-ray player owners, you could argue that any of the high-definition decks are "high end"; however Denon Japan have announced what they're claiming is the world's first high end Blu-ray universal player.  The posh title is to take into account that the DVD-A1UD is capable not only of playing the usual Blu-ray and DVD video discs, but also DVD-audio, SACD and standard CDs.  It also comes with the company's DENON Link 4th technology, which apparently improves performance even from standard-definition sources.
Connectivity includes two HDMI 1.3 ports, component video, S-video, composite video, optical digital audio, coaxial digital, balanced two-channel stereo analog audio, ethernet, an SD card slot and a serial port, together with a DENON LINK port.  Thankfully the whole thing can be updated with new firmware, as in its current configuration the DVD-A1UD doesn't support BD-Live.
Denon are promising the DVD-A1UD in Japan by the end of January 2009, priced at 546,000 yen ($5,879) in black or silver.  A European launch will follow in March 2009, priced at €4,000 ($5,046).