Delta Vivitek 8.2-inch color eReader with China Mobile 3G tipped for Dec 2010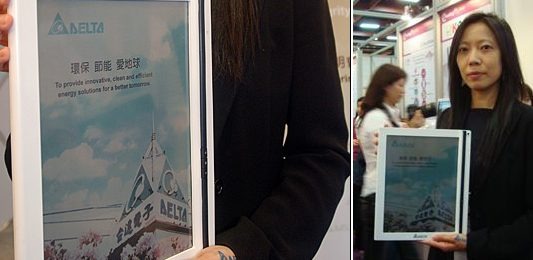 A color e-paper wireless ereader is apparently on course for release in December, with sources in Delta Electronics' supply chain telling the Taipei Times that the company's 8.2-inch model will offer WiFi and 3G in a partnership with carrier China Mobile.  It's not the first time we've heard about a color Delta ereader, either; the company demonstrated a 13.3-inch prototype at Computex 2010 back in June, suggesting it would be commercially available by the end of the year.
This newly leaked version has a smaller screen, but otherwise the specifications look very similar.  However there's no indication of whether the 8.2-inch Delta ereader – which will carry the Vivitek brand – will allow for pen-input annotation, like the larger model could.
China Mobile are said to be subsidizing the sticker price of the device, though neither the original or discounted cost are currently known.  Delta has previously said that its Bridgestone-sourced e-paper is faster than that of rival E Ink.
[via E-Reader-Info]