Delphi SkyFi3 release date set - December 1st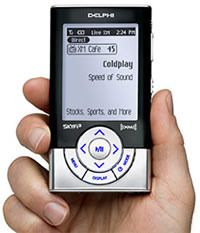 Recently seen in adverts but subsequently yanked, the Delphi SkyFi3 is a pretty little slice of satellite radio playing goodness, 65% smaller than previous SkyFi models and boasting 30 minutes of live radio rewinding, built-in storage for up to 10 hours of XM content and a Micro SD slot for storing mp3/WMA/WAV files.  Sadly the battery lasts just eight hours, meaning you won't even have time to play back all that stored content, never mind get started on your mp3 collection!
There's a bundled car dock, capable of holding the SkyFi3 either horizontally or vertically, with aux-in for routing external audio through your car stereo.  Two versions of headphone-cum-aerial sets are available – the standard (which if you shop around you might find as a freebie with the SkyFi3 itself) that relies on the unit's internal battery to give 90 minutes of XM Radio, or the premium which has a rechargeable battery pack and boosts listening time to 7 hours in XM Radio mode and 40 hours of stored content.
In-built stock ticker, favourite-artist search and recording scheduler round out the package.  Available from December 1st at a MRSP of $229.