Dell XPS 13 Ultraportable Review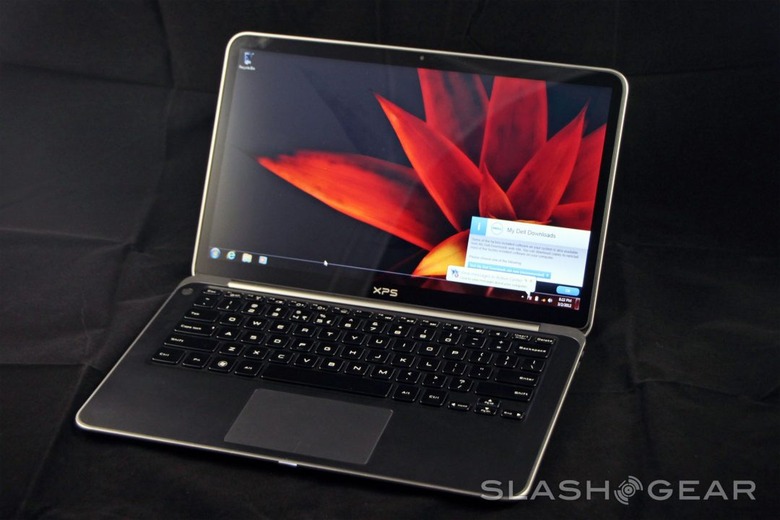 Dell has a reputation, deserved or not, as being a reliable, economical and (not to put too fine a point on it) dull choice when it comes to PCs. There have been many attempts to change rectify this; the first in recent memory was coincidentally titled the XPS 13. Various incarnations of this machine and others like the Adamo line have again and again tried to break this perception, and while admirable efforts, they've fallen mostly on deaf ears. Enter the XPS 13 Ultrabook, which utilizes Intel's vague set of standards to hopefully stand above the crowd.
Hardware
Equal parts style and substance, Dell has crammed a commendable amount of technology and no small bit of innovation into its chassis. As the owner of several Dell laptops and desktops in the past, I can say with some authority that the XPS 13 is the most stylish machine they've ever produced, with the possible exception of the original (and admittedly flawed) Adamo. Between the premium construction, tiny screen bezel, soft-touch control deck and carbon fiber bottom, it is the definition of "a looker". If you're a fan of Dell and want a laptop that'll turn heads, this is it.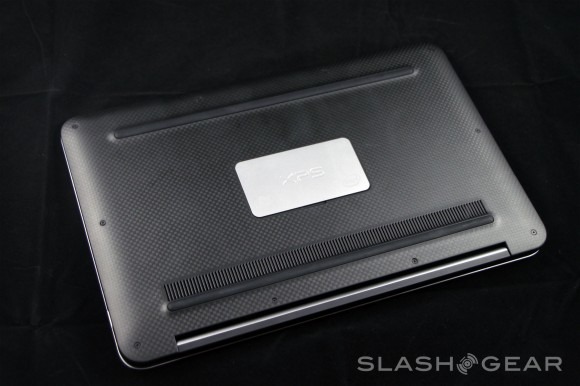 The screen is a mere 1366x768, which is standard for a 13-inch laptop, but still somewhat lacking when you consider that the 13" Macbook Air comes with 1440x900 and the Asus UX33 has a roomy 1600x900. That being said, it's very bright and clear, if a little more glossy than I prefer. The absolutely tiny bezel helps keep the 13-inch laptop small, and the Gorilla Glass makes for solid and reassuring panel.
The backlit keyboard and trackpad make for something of a dichotomy. While the soft-touch plastic and gently curved keys make typing a comfortable experience, surprisingly long travel make it something of an inaccurate one: I often found I had to apply considerably more pressure than I was used to in order to register a keystroke. Dell's usually solid touchpads aren't helped by an Apple-inspired clicking pad with defined left and right mouse "zones". I would have much preferred a more traditional combination of a static pad and physical buttons. That said, I was able to get used to both quirks eventually.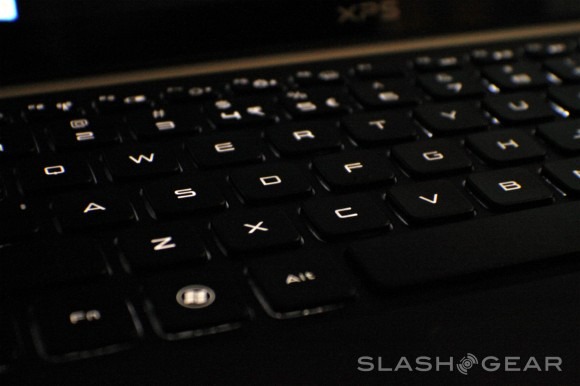 Inputs and outputs are somewhat limited. Just two USB ports (one a USB 3.0) flank the machine, with a DisplayPort and a combined headphone/microphone jack keeping them company. An SD card slot is felt in its absence. An activity indicator light is cleverly tucked beneath the touchpad, and flipping the unit over reveals a stylish tab that conceals the FCC and Windows 7 legalese and keeps the carbon fiber frame looking good.
Inside you get a Core i5 or i7 ULV processor, 4GB of RAM and either 128 or 256GB of SSD storage. Our test unit came with the more expensive i7 and 256GB combo, raising the base price of $999 to $1499. Intel integrated graphics are the only choice for a GPU. The standard compliment of other bells and whistles are included, including WiFi, Bluetooth and a 1.3MP webcam round out the package.Two things that make the XPS 13 stand out are its weight and noise.
The former is among the best in class at just under three pounds, no doubt thanks to the carbon fiber bottom. The latter is a consideration for those who want silent running – it isn't here. The large vent on the bottom of the computer whines at regular intervals.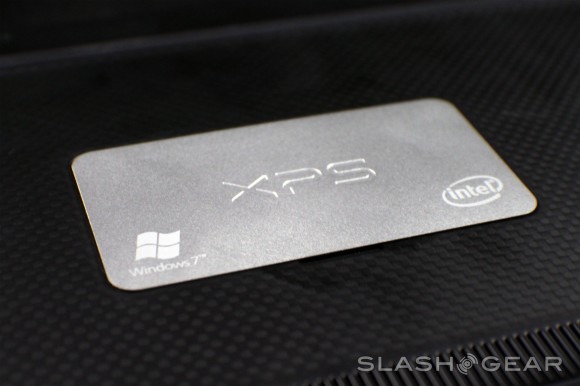 Software
There isn't much to say about Windows 7 Home Premium that hasn't been already, but I note that Dell has included the 64-bit version despite the 4GB of memory being user inaccessible. The combination of a Core processor, plenty of RAM and Windows is well-established, and those craving speed and flexibility will not be disappointed even with the basic configuration.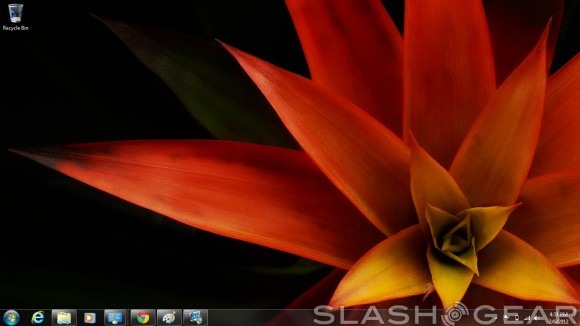 The temptation for to include trialware and other pack-ins is strong for any manufacturer, and unfortunately Dell has yielded at least somewhat. The standard Office trials and Bing bar make their presence known from Microsoft, as do the usual suspects from Adobe, Skype and McAffee. It must be said that Dell's collection of custom software is more intrusive than most, with backup prompts and other minutia cluttering the experience at times.
All that said, the experience in Windows is pretty standard, and anyone even mildly familiar will be able to get it running to their liking in no time flat. I continue to lament the lack of clean Windows install discs available from manufacturers these days, but Dell is no worse than its contemporaries in that regard. There are no extras present that an experienced user can't deal with or ignore.
Performance
If you want a screaming gaming machine, you're unfortunately out of luck when it comes to ultrabooks. But as far as raw processing power, the XPS is hard to beat, at least with the i7 option. It reaches into full-sized laptop territory when compared with othe rrecent models, and the only ultrabook we've found that can beat it is the Lenovo Ideapad U400.
[sgbenchmark id=152 show=system]
[sgbenchmark id=152 show=score]
All that power means you should have no trouble with basic tasks, and more advanced fare like media editing, 1080p video or even light gaming (World of Warcraft, Team Fortress 2 and the like) shouldn't present a challenge. However, with just 4GB of RAM (and no upgrade options at the moment) you may not be able to do all of this at the same time.
Battery Life
As far as longevity goes, the Dell XPS 13 Ultraportable is better than some, but not as good as others. After running the machine to its limit on half brightness and pretty regular use of Chrome for WiFi web browsing, it got between 5:45 and 6:14 of life in three separate tests. While not great (and certainly not as great as Intel would like) it's at least enough for a coffee shop excursion or most continental plane flights. Better longevity can be expected from the i5 version, and of course excessive use of video or games will drastically cut it.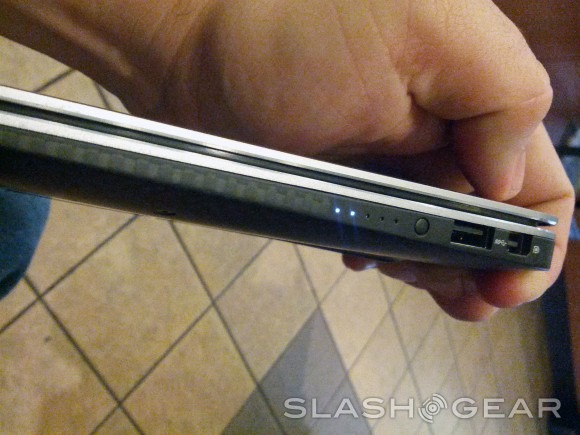 Ultrabooks in general have disappointed when it comes to battery life. The notable exception is the HP Folio 13, which also notably isn't anywhere near as stylish or slim as the XPS 13. Of course the enclosed and carbon fiber-clad design means that the battery is non-removable, and the triple-pronged wall adapter, while small, may cause some headaches when looking for a recharge. Notably, an exterior battery charge indicator on the right side can be activated without turning on the computer.
Wrap-up
At a starting price of just under a grand, the XPS 13 is just below competitors from Apple Samsung and Asus, but more than HP and Acer – in other words, exactly where you'd expect it to be. If you want to spend less, there are plenty of options out there, and if you want to spend more you can get a faster processor or denser SSD drive. You're definitely paying for style here, especially after the upgrades.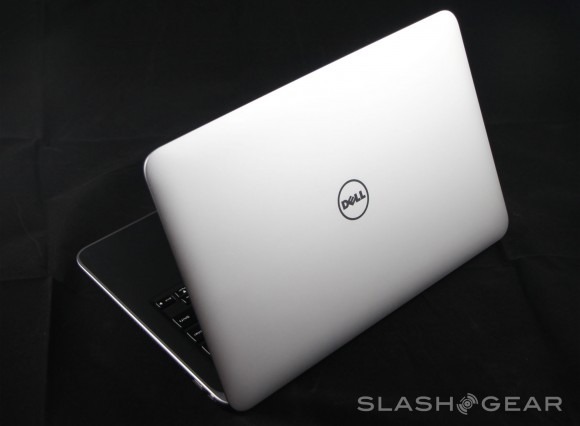 Even so, I don't feel that it's a bad deal at all – the premium construction, slim design and impressive screen make for a compelling package. There are cheaper alternatives, certainly, but none with this much portability or style without sacrificing screen size.
Those looking for a long-haul machine or a machine for pounding out a thousand words at a time should look elsewhere. The Dell performs admirably in just about all areas, but doesn't really excel in any. If style, processing power and portability are among your top considerations in a Windows laptop, the Dell XPS 13 Ultraportable should be in your short list.