Dell XPS 13 Ultrabook: first impression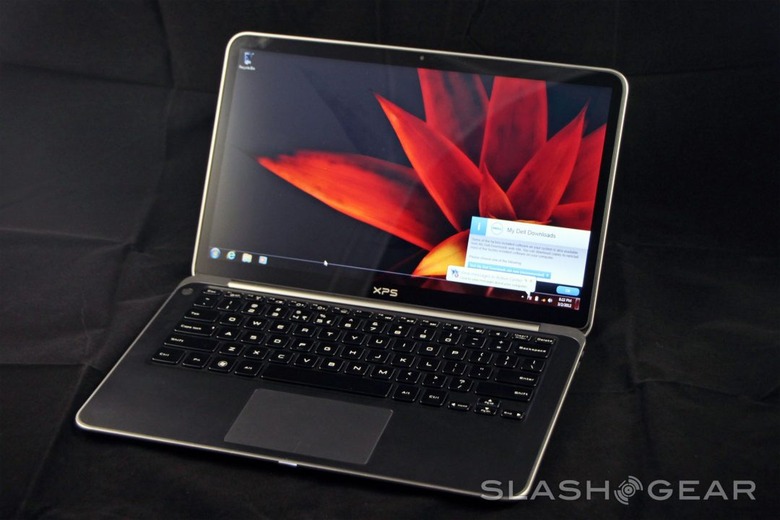 Ultrabooks were all the rage at CES 2012 last month, and if one model rose above the rest, it was the XPS 13 from Dell. The latest in a long line of powerful portables, the Ultrabook version of the XPS 13 wowed onlookers with a combination of a metal, plastic and carbon fiber body and incredible slimness, not to mention a tiny overall footprint – Dell claims that it's crammed a 13-inch screen into a body size mostly reserved for 12-inch laptops. You can pick one up from Dell now starting at $999, but you might want to read our initial impressions first.
I've owned quite a few Dells in my life, and while they've been generally reliable and always good value for money, the new XPS blows them all out of the water when it comes to style. The only thing that the company has that comes close is some of their executive laptops, and those are more attractive thanks to their tank-like qualities, where the XPS is svelte. An impressively light weight of just 2.9 pounds combines with a .71-inch thin frame to make it an impressively compact machine.
The top is matte silver plastic (very few fingerprints) ringed with a durable aluminum, with a Gorilla Glass-covered LCD screen – an appreciable addition. On the keyboard deck you get lighted keys, and love it or hate it, the all-in-one trackpad/mouse button combination that seems to be standard on ultrabooks. There are defined left and right click areas, for those that want it. The deck itself is a grippy, soft-touch plastic that feels great on the palms. Just below the trackpad is an activity light visible when the laptop's closed. A single USB 2.0 port on the left side is flanked by a combined headphone/microphone jack and the power jack, while the right side holds a USB 3.0 port and a power port. That's all you get for in and out – an SD card slot would have been nice, but is just as absent as an optical drive.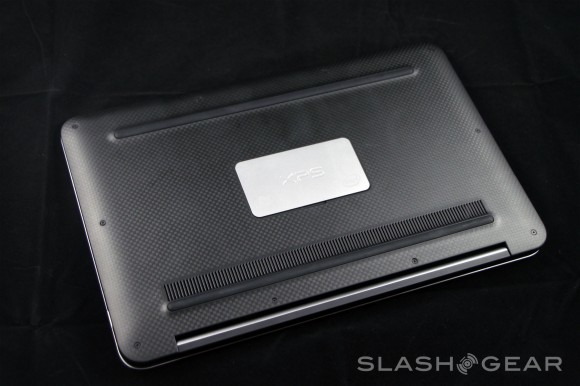 The bottom holds some interesting goodies: aside from the drag-racer inspired carbon fiber panel, there's a covered "XPS" aluminum latch that hides the Windows 7 system information. This is a snazzy and hitherto unseen way of keeping the bottom base of stickers or paint – not overly necessary, but a nice touch. A long vent hints at surprisingly powerful innards: our review unit came with an upgraded Intel Core i7 processor and a 256GB SSD drive, but a Core i5/128GB combo is standard. At present, Dell is only offering the XPS 13 with 4GB of RAM and Intel integrated graphics.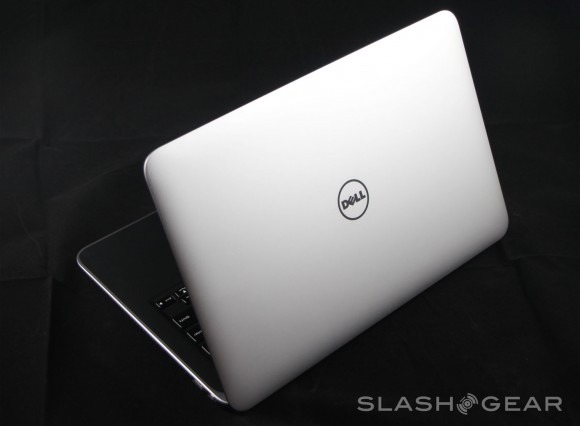 Easily the most pleasing thing upon initial inspection is the screen. It's bright, surprisingly clear for a 1366x768 panel, and a seriously tiny bezel makes it stand out in the crowd of ultrabooks already on the market. Despite its small size, the full-size keyboard and soft-touch palmrest and touchpad make for very comfortable use, and a light bloatware load is always a good sign. We'll be trying out the Dell XPS 13 Ultrabook for the next few days, and you can expect our full review next week. In the meantime, check out the hands-on unboxing video below:
[vms 2237565570f8a9e5ca24]