Dell XPS 12 Two-in-One Laptop Review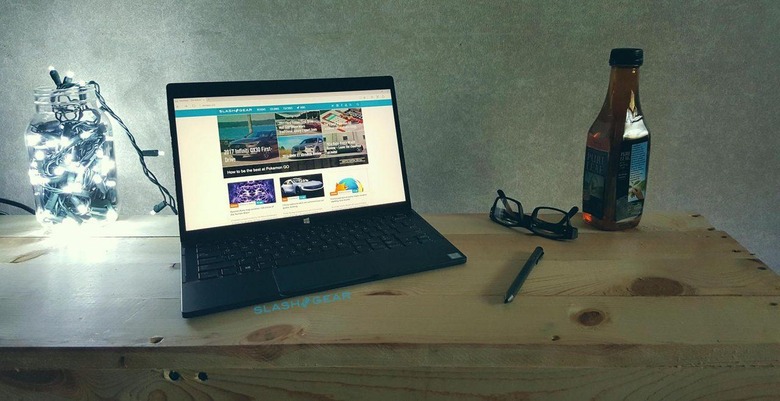 Consumers are increasingly gravitating toward so-called "convertible" laptops — that is, tablets that attach to a keyboard, giving users the best of both worlds. Dell's new XPS 12 is no exception, at least not in terms of its foundational design: it has a folio cover, magnetic keyboard, detachable tablet, and stylus. We've seen all that before, and we'll see it again. The finer details are what makes or breaks a new offering, of course, and so we've spent a couple weeks putting Dell's new two-in-one through the wringer. Spoiler: the results are largely great.
Hardware
The Dell XPS 12 can be used in three arrangements: as a regular tablet, as a laptop when connected to the keyboard, and as a fancy reading/writing slate when shrouded in its folio case. It is comfortable to use in all three arrangements, which isn't something I can say about many competing 2-in-1 products. It's very easy to get these designs wrong, and a lot trickier than it looks to pull them off well.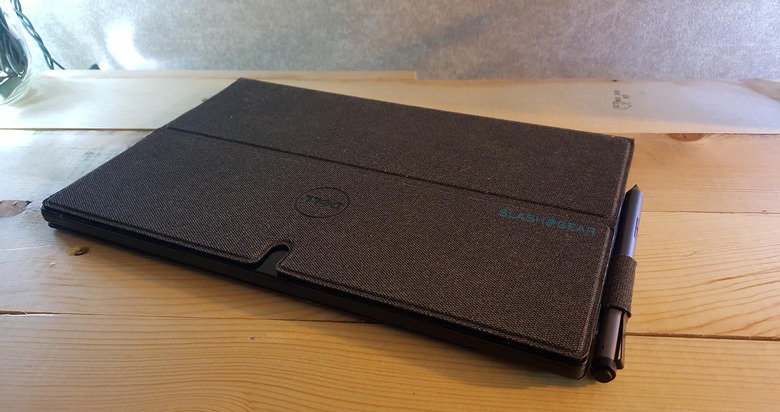 The tablet portion of the XPS 12 has a soft rubber-like backing; it fits comfortably over the keyboard when not being used, while the folio cover can wrap around the tablet by itself and around the keyboard/tablet sandwiched together. The folio has a loop for holding the stylus; it itself is well-placed and unobtrusive, ultimately rounding out a great design.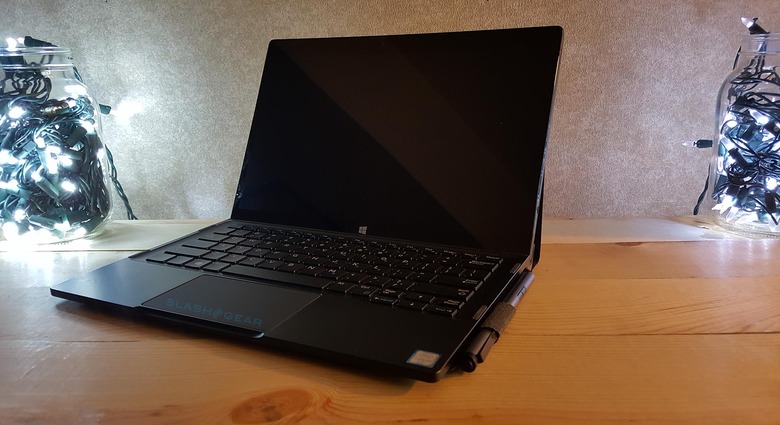 The tablet attaches to the keyboard using magnets; just hover it close and it will snap into place. Once attached, and assuming you're using the Premier Keyboard, it won't appear much different than a regular laptop. If the Premier Keyboard is too big for your liking, though, Dell also offers a thinner and more traditional XPS Slim 12 Keyboard. The slim keyboard has adjustable viewing angles that range up to a decent 150-degrees. I personally tested the XPS 12 with the Premier Keyboard, and I enjoyed it.
If you've used so-called folio keyboards in the past and never really liked them, you'll probably want to opt for the Premier Keyboard; this is very much up to personal preference, though. I've met just as many people who prefer the slimmer, more flexible keyboards over the rigid and inflexible thicker ones.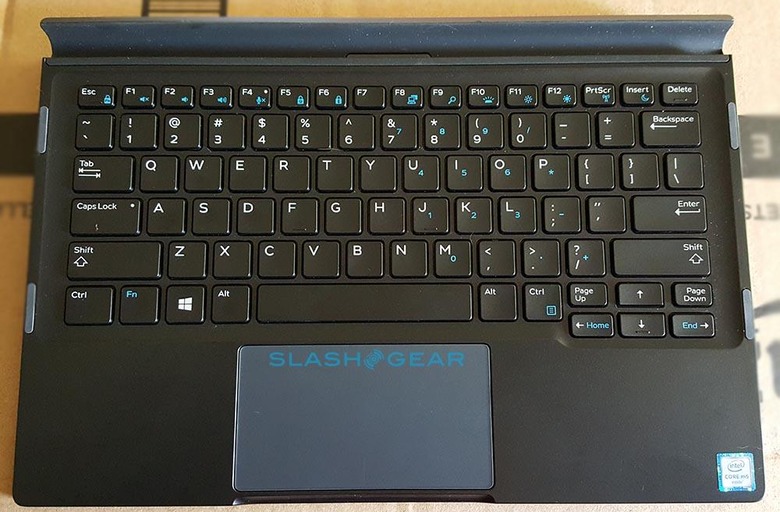 As far as the usage experience goes, the keys on the Premier Keyboard are solid but fall a bit to the soft end of the spectrum when typing. The trackpad is, by way of necessity due to space constraints, somewhat small but highly useable. Dell tossed a handy feature into the mix called Accidental Activation Prevention, which is exactly what it sounds like: if your palm accidentally hits the touch pad, you won't end up clicking something you didn't mean to. Finally, the keys on the keyboard are backlit.
Processor: 6th Generation Intel Core m5 6Y57Memory: 8GB LPDDR3-1600MHzHard Drive: 128GB SSDVideo Card: Intel® HD Graphics 515Display: 12.5" FHD (1920x1080) touch, UltraSharp™ 4K Ultra HD (3840x2160) touchBattery Life: Up to 10 hoursKeyboard: XPS 12 Premier Keyboard with Dell Premier Magnetic Folio
Software & Performance
The tablet runs Windows 10, and has some benefits because of that. Pop the tablet out of the keyboard, for example, and it'll switch over into tablet mode. There's the personal assistant Cortana, which was very responsive when talking at the XPS 12. Activating the Battery Saver option in Windows 10 helps increase the system's runtime, and overall the OS runs very well on the tablet. For those who use Edge's note-taking feature, using the Active Pen to scribble out messages is a very pleasant task. Handwriting on the XPS 12 is smooth as butter.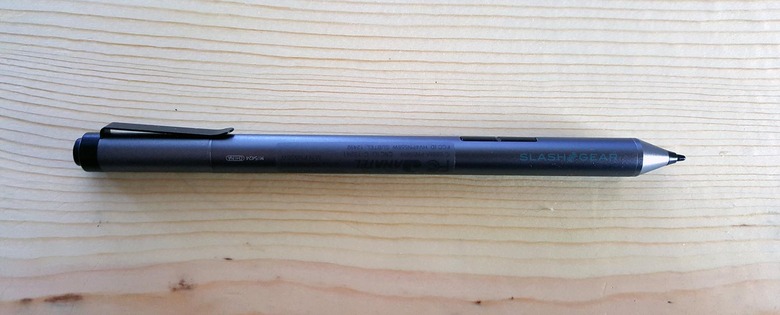 Benchmarks are where we'd expect them to be given the specs. You can compare them to other laptops and two-in-one units we've reviewed in our Laptop Reviews portal. For comparison, Lenovo's similarly styled (and differently spec'd) ThinkPad X1 Tablet scored 2662 on the single core and 4900 on the multi core test.
Accessories
Dell offers some accessories for the tablet, and I took a couple of them for a spin. First up, and most necessary for business users, is an adapter that includes the most common ports you'd expect someone to need: HDMI, VGA, USB 3.0, and Ethernet. The adapter is very light and square-shaped with a USB-C cable that tucks into the adapter's body when not in use. It's small enough to fit in a pocket and go unnoticed in it.
The adapter is absolutely necessary if you plan to ever use the tablet with peripherals — otherwise you get a pair of USB-C ports on the tablet and that's it. Such adapters are, whether any given consumer likes it or not, becoming a staple requirement. It's the compromise you make for getting USB-C and a very slim tablet, and in time it's a compromise that won't bother you much.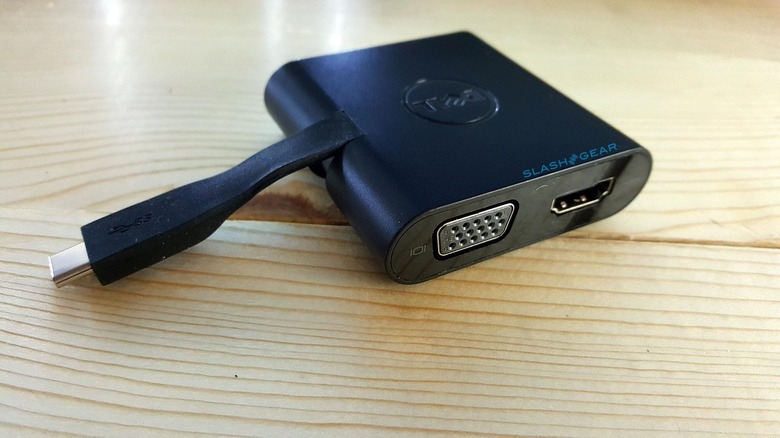 Joining the adapter is an optional 12,000mAh power bank designed for certain Dell laptops and ultrabooks. This is a bit more sophisticated than a run-of-the-mill power bank, and it can also be used to charge a couple of USB devices in addition to the XPS.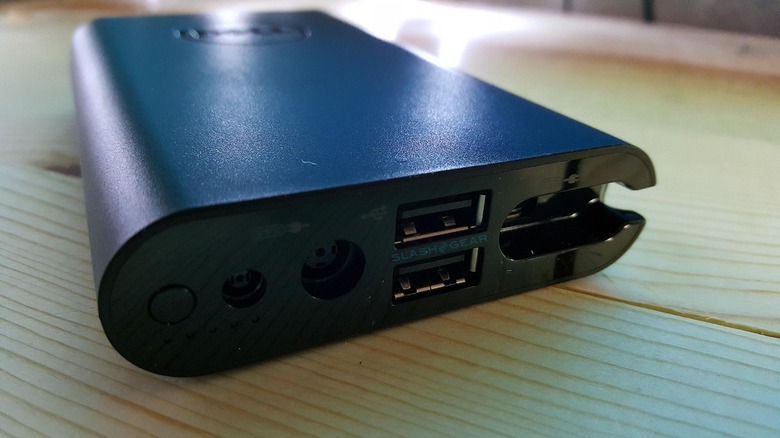 With the cable attached, the power bank looks very similar to an ordinary Dell power cable. It's not particularly bulky or heavy, and you don't really notice it when it's inside a bag. It's not much different than times when you'd pop a spare laptop battery into your bag, and it can be a godsend if you're traveling or at a conference and can't stop to sit near an outlet for an hour to recharge.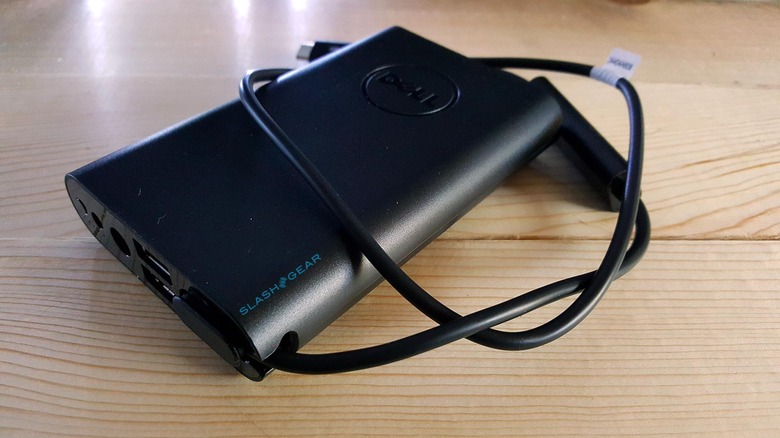 Downsides?
Honestly, there's only one thing about the XPS 12 that I found myself unhappy with, and that's its rapid battery depletion in standby. It seemed like I was charging the tablet more often than I should have had to, usually in the morning. For whatever reason, the battery drained fully overnight multiple times; compared to a competing product like the HP Elite x2, this is pretty disappointing. The Elite x2 can be left in standby for many days and barely sips the battery, for comparison.
There weren't any issues with the battery excessively depleting during regular usage, though, so the issue boils down to having to make sure you leave the tablet plugged in at night or that you shut it down fully before calling it a day.
Conclusion
Truth be told, I'm not usually a fan of 2-in-1 systems, and that's because more often than not I find them clunky. They're often inferior when used as a laptop (in comparison to actual laptops), and more expensive than a regular tablet. The Dell XPS 12 is different — when set up like a laptop, it can actually be used like one and you won't feel like you're struggling to keep it stable or assembled. In fact, I once used the XPS 12 attached to the keyboard while sitting on the couch by propping it up on my knee; many 2-in-1 systems can't be used like this without toppling over, so color me impressed.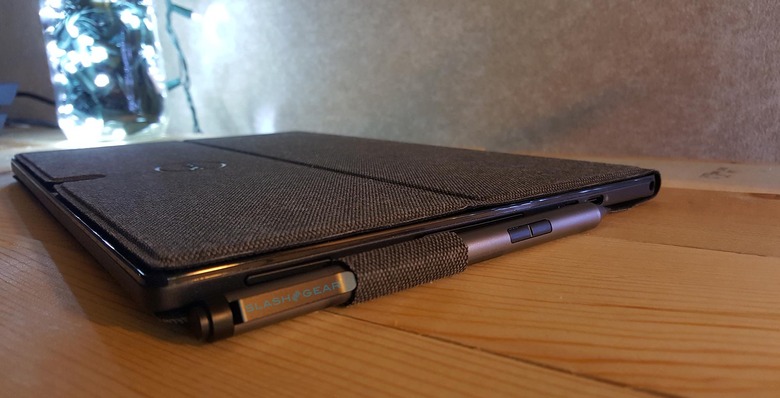 By far, though, the most impressive part was the quality of the display and the stylus. To say that drawing and writing on the XPS 12 was a pleasure is a complete understatement. The tablet provided one of the best digital drawing experiences I've ever had with a consumer tablet; this could absolutely be a digital artist's main drawing tablet, and I can't imagine they'd find a single thing to complain about. If you frequently take handwritten notes, as well, you'll love the XPS 12.
The Dell XPS 12 starts at $999.99 USD on Dell's website.