Lenovo ThinkPad X1 Tablet Review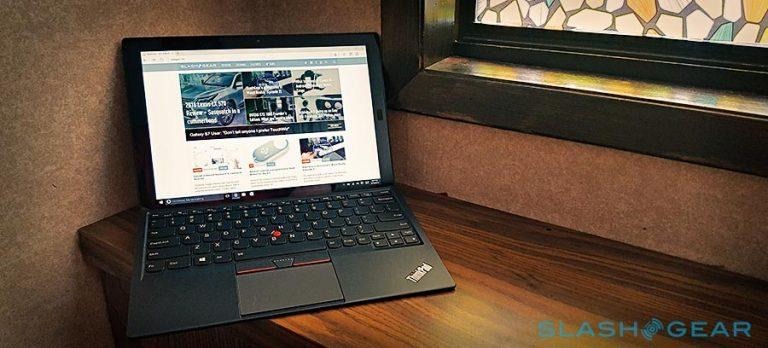 Perhaps you're still rocking the third-generation X1 Carbon laptop, and you're not quite sure you're ready to upgrade to the fourth-generation model. That doesn't mean you have to forgo this year's update — Lenovo has the ThinkPad X1 Tablet, a two-in-one tablet/keyboard combo that, combined with a sleek projector-wielding module and a sturdy stylus, form a beastly, highly portable tablet system.
Hardware
Lenovo has designed the X1 Tablet specifically for business users, giving them a 2-in-1 option able to meet demanding needs while retaining a high level of portability. Of course, the tablet isn't going to replace your computer, at least not for most people. It will serve as a nice substitution for those on-the-road days when your hardware demands will be somewhat modest. First and foremost, the X1 Tablet is lightweight at 1.67lbs, while the keyboard doesn't add much more weight at 300 grams.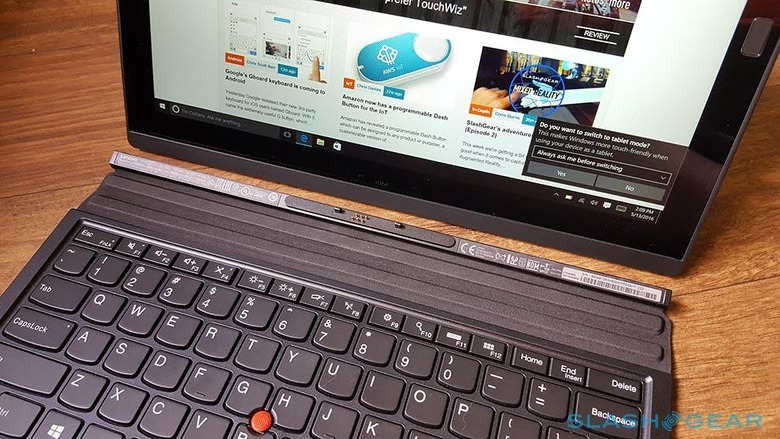 The tablet, of course, can be used as a tablet, but can also be propped up on a kickstand similar to the Surface, or can be used in laptop mode with the folio keyboard. Both that keyboard and a pen are offered as standard accessories with the system. The Active Pen is as lovely as the keyboard — it offers 2,048 levels of pressure sensitivity while the keyboard boasts a TrackPoint and trackpad.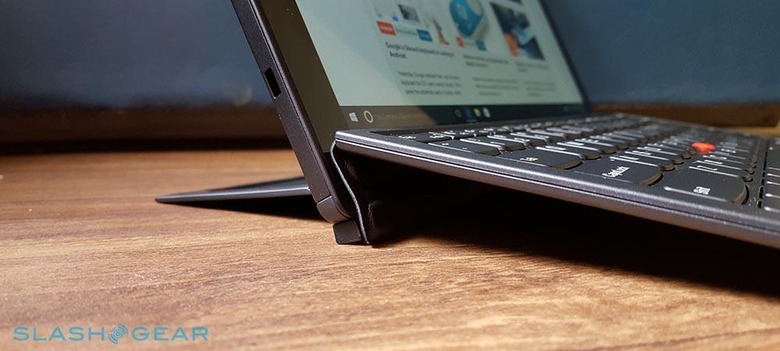 As you probably guessed, the new X1 Tablet features USB-C rather than a proprietary charging plug or micro USB. This is the same USB type found on the new MacBooks, Elite x2, and some other devices. As well, Lenovo assures prospective buyers that the X1 Tablet features the same level of durability found in the maker's other ThinkPad systems — it is MIL-SPEC tested and features Gorilla Glass 4.
One of the X1 Tablet's best features, though, are the optional add-on modules — with them, users are able to expand the tablet's functionality with things like a projector (similar to the one on the Yoga Tab Pro 3), 3D imaging capabilities (Intel RealSense), and extra battery life. This is a great way to get extra functionality that would otherwise increase the starting price of the unit, allowing consumers to pay only for the features they need rather than ones they may not one.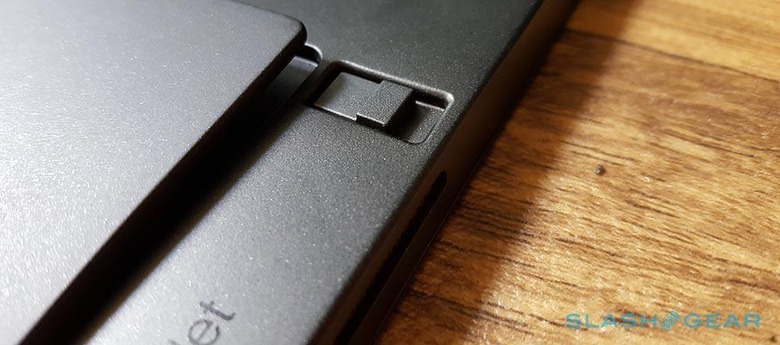 As far as design goes, the X1 Tablet is very distinctly 'ThinkPad' in nature, featuring the same keyboard/trackpad design we saw on the fourth-generation X1 Carbon laptop. Imagine, if you will, plucking the display off the X1 Carbon; the two pieces you're left with are, in terms of design, very similar to what you get with the tablet/keyboard combination.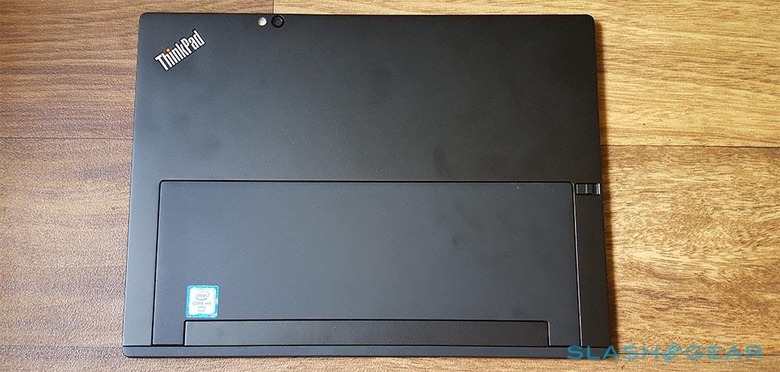 The keyboard attaches to the X1 Tablet and can be positioned at one of two different angles: flat and high-angle. The overall design is very business-chic, if you're forgive the term; quite clean and refined and not terribly flashy at all.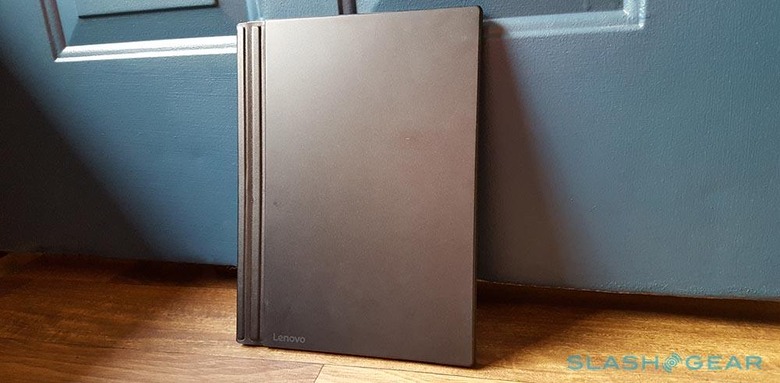 TECH SPECS
Processor: Up to Intel® Core™ m7 vPro™ ProcessorOperating System:

- Windows 10 Pro 64-bit

- Windows 8.1 Driver Support

Graphics: Intel® HD Integrated GraphicsMemory: Up to 16 GB LPDDR3Storage: Up to 512 GB SSDCamera/Microphone: 2 MP or 8 MP with Flash 1080p

Dual Array Microphone

Battery: Up to 15 Hours of battery life with Productivity Module (purchased separately)

(Up to 10 Hours with tablet only and up to 5 Hours from Productivity Module)

Display: 12" FHD+ 2K (2160 x 1440) IPS, 3:2Dimensions

- Tablet :

- (inches) : 11.45" x 8.24" x 0.33"

- (mm) : 291 x 209.5 x 8.45

- Keyboard :

- (inches) : 11.41" x 8.97" x 0.20"

- (mm) : 290 x 228 x 5.2

Weight

- Tablet: Starting at 1.69 lbs (0.77 kg)

- Keyboard: Starting at 0.66 lbs (0.30 kg)

Security and Manageability

- dTPM

- vPro™ Technology

- Touch Sensor Fingerprint Reader

Modules

- Productivity Module (purchased separately)

- 5 Hours Battery Life, HDMI, OneLink+ and full size USB

- Presenter Module (purchased separately)

- A 60" display from 2 Meters

- Full-size HDMI

-3D Imaging Module (purchased separately)

- Rear-facing Intel RealSense Camera

- Full-size HDMI

Keyboard/Pen: ThinkPad Thin Keyboard/Stylus PenColors: BlackPorts:

- 1 x USB 3.0

- 1 x USB Type-C Power Delivery

- Mini DisplayPort

- microSD

Nano Sim

WiFi: Intel 8260AC+BT 2x2 vPro MBMobile Broadband: Qualcomm® SnapdragonTM X7 LTE-A (Sierra EM7455) (coming soon)
Software and Performance
Given that this is a Lenovo product, we're not surprised to find it includes the maker's own WRITEit included — the application converts handwriting into data in whatever text field you're trying to write in, and also allows the user to draw gestures, which are translated into commands. It's a pretty nifty feature, and is joined by typeset gestures, such as as striking through a typeset to delete it, or circling something to highlight it for replacement text.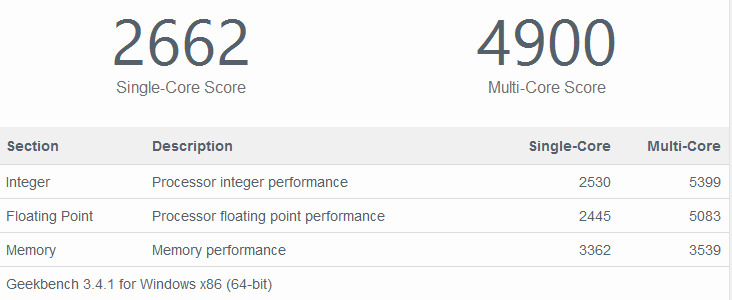 Note: Our unit features an Intel Core M5-6Y57 1.1GHz/Intel Core M7-6Y75 1.20GHz processor, Intel HD 515 graphics, 8GB of LPDDR3 memory, and a 256GB SSD.
Battery life, of course, depends on what you're doing with the tablet, but will also depend on whether you buy the Productivity Module, which expands the battery capacity. Without it, the tablet by itself will get up to 10 hours, says Lenovo, and we found that to be a pretty accurate estimate. Lenovo says the Productivity Module will add up to 5 hours to the tablet's run time, though, for up to 15 hours total.

Note: the screenshot above is Windows 10's battery summary for the tablet.
Conclusion
The X1 Tablet is wonderfully designed and is one of the most pleasant two-in-one devices I've ever typed on. The keyboard is every bit as useable as what you get on the fourth-generation X1 Carbon — in fact, when propped up on a table, you can't tell the difference between typing on a Lenovo laptop and typing on the convertible tablet system. The arrangement has the same limitations as any 2-in-1 tablet/keyboard setup — you won't be able to type on it if you're not at a desk/table, namely. Those who are familiar with 2-in-1 tablets in general will find the X1 Tablet to be one of the best offerings currently on the market.
The ThinkPad X1 Tablet model we reviewed will start at $1,349 USD and will be available starting the end of May.