Dell XPS 12 "Surface Pro clone" has more pics, specs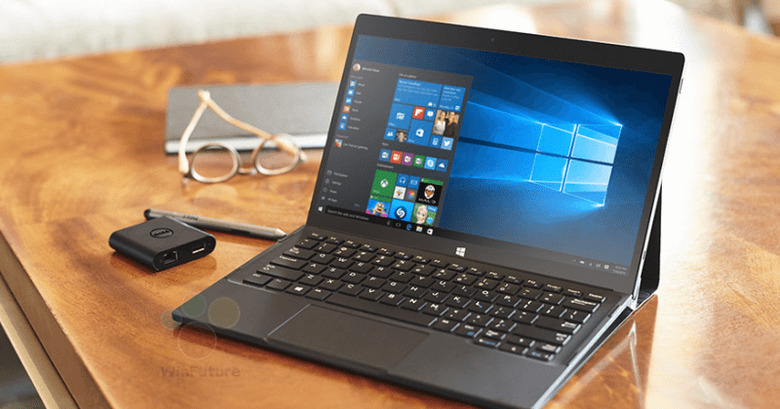 In just a few days, Microsoft is expected to reveal its next Surface Pro "tablet that can replace your laptop", but the rumors of devices that are trying to "kill" it don't seem to be stopping any time soon. Dell was already rumored to have such a device ready and now we're hearing more details about it. In fact, we're also seeing more of it, thanks to higher resolution images of this XPS 12, which kinda looks like a cross between Microsoft Surface and an ASUS Transformer.
A Surface tablet is conventionally defined, at least in design, by a kickstand and an ultra thin keyboard cover. Here, however, the keyboard is more like a dock reminiscent of ASUS's design on the 2-in-1 tablet/laptop hybrid. Actually there are supposedly two keyboard docks available, a 1.3 mm thin one and a thicker one that offers extra ports like another USB C port, two regular USB sockets, and HDMI out.
The tablet part itself is said to be only 8 mm thick, which is a lot thinner than the Surface Pro 3's 9.1 mm profile. And at 12.5 inches, it is said to be the first display of that size to sport a 4K Ultra HD resolution. The screen is made by Sharp and therefore flaunts its IGZO display tech. Rumor has it that Dell might offer a presumably cheaper model with a Full HD screen only. Deeper inside, you get to the CPU, which is noted to be an Intel Core M processor of the Skylake generation. A bit disappointing as the Surface Pros normally sport a Core i line. Performance wise, this Dell XPS then would more closely match the Surface 3, though the rest of the specs are definitely more than that. There might be options between 4 and 8 GB of RAM and it will come with an 8 megapixel main camera an a 5 megapixel front camera.
The body of this XPS 12 is said to be made from magnesium alloy, again drawing parallels to the Surface Pro. Unlike the Surface Pro, however, Dell's machine sports more ports, like two, not one, Thunderbolt 3 ports and USB Type-C ports. It also has a card reader for more storage, of course. The XPS 12 is also noted to have an option to include a SIM card slot for LTE coverage in addition to the usual Wi-FI and Bluetooth. It also has support for Dell's pressure sensitive Active Pen, though there is no mention if it comes with the package or even has a dedicated silo for it.
This Surface Pro, or Surface, contender has been formally named as the Dell XPS 12 9250. No word yet on when this device will be announced, though there are hints it could happen already later this month, considering the product page seems to already be up.
VIA: Winfuture.de