Dell has a Surface Pro clone with a 4K display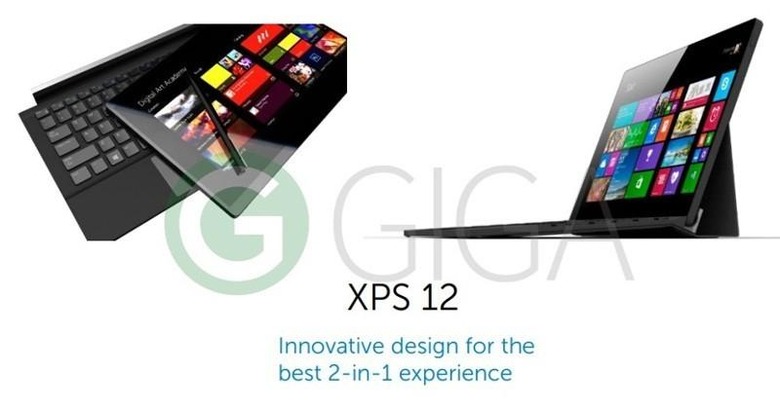 Let the clone wars begin! Or something like that. Despite Dell (and HP) entering into a partnership with Microsoft to sell the latter's Surface Pro 3 tablets to former's enterprise customers, it seems that Dell also has plans to try to one up Microsoft in that category too. A new XPS 12 2-in-1 was recently leaked sporting the same design sense that has made Microsoft's tablet both popular and unpopular at the same time. This follows Lenovo's more official revelation of the MIIX 700 with exactly the same basic design.
Let it not be said that Dell is simply cloning Microsoft here. Based on the leaked information, it surpasses it. At least the Surface Pro 3. The 12-inch screen, for example, boasts of a 3840x2160 4K resolution. Though the CPU is not mentioned, given the timetable it would most likely sport an Intel Skylake. Curiously, the tablet is noted to have a Thunderbolt 3 port but makes no mention of USB. Given that some details are still missing, not to mention this is all from an unofficial source, we'll keep our fingers crossed. The tablet will also have an active stylus.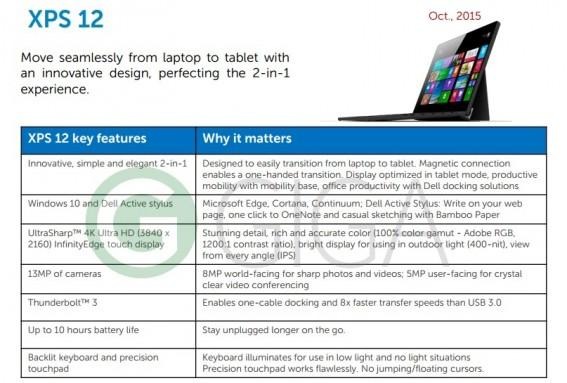 That said, Microsoft's upcoming Surface Pro 4 could very well sport those same specs too. The next iteration of Microsoft's tablet has been said to be a good many things. Of course we'll have to wait for Microsoft's expected October announcement to see the real deal. Only a Skylake processor seems set in stone at this point.
Equally interesting is the timing of Dell's rumored XPS and Lenovo's MIIX. Some pundits point out how Apple's iPad Pro has subtly vindicated Microsoft's Surface idea of a tablet that can replace your laptop, albeit coming from a mobile perspective. This could very well be the sign that PC makers need to push out something like their own Surface.
How Dell and Lenovo got the Surface design, however, is still unknown. Perhaps thanks to rumors of the iPad Pro, Microsoft might have started to license the design to other manufacturers. The Surface has always been a rather odd duck, existing both as a distinct and viable product and as a sort of reference design. Perhaps now Microsoft has started spreading that reference to others, which might be great for Windows 10 but eventually bad for sales of the Surface itself.
SOURCE: GIGA
VIA: Thurrott