Dell XPS 11 tackles Lenovo Yoga with bendy-flexy ultrabook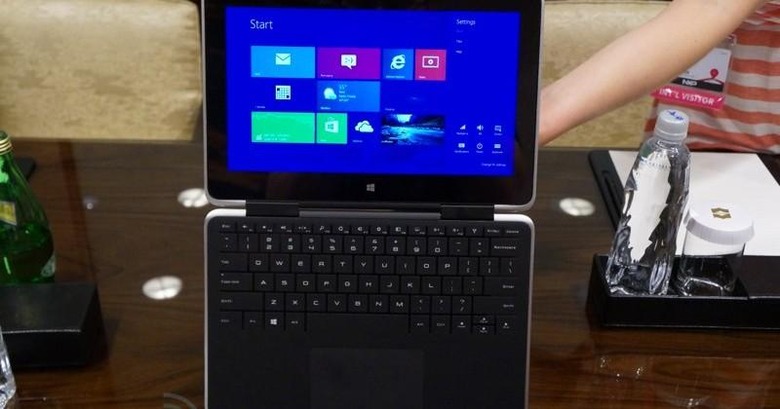 Dell is taking a low-key approach to Computex this year, with a key product to cut through rivals' bloated ranges. This time around, it's the Dell XPS 11, an 11-inch hybrid that's fronted by a 2,560 x 1,440 touchscreen, and which can fold around fully to make it a tablet. In case you hadn't spotted it already, it's something of a riff on Lenovo's IdeaPad Yoga 11 we played with last April.
Like the Yoga 11, the XPS 11's raison d'etre is catering to those mobile users who want the tactile convenience of a relatively compact touchscreen form-factor, but who also demand a proper keyboard occasionally. Well, although we say "proper", in fact Dell has taken some liberties to get around the feeling of a wobby keyboard constantly at your fingers when you're holding it in tablet mode.
Instead of regular notebook keys, then, the XPS 11 has a flat, touch-sensitive 'board, which both Engadget and The Verge compare to the TouchType add-on keyboard for Microsoft's Surface tablet. That means no typing feedback, and Dell also deactivates the keys altogether once you fold the screen more than 180-degrees around.
Dell isn't confirming final specifications, but the XPS 11 will have an Intel Core i5 Haswell processor – from Intel's 4th-gen line-up – along with an active stylus for sketching and handwriting recognition; that'll slot into a holder clipped to the Kensington lock port when not in use. Ports include USB 3.0, Thunderbolt, and an SD card reader, though there's no telling what RAM, storage, and wireless connectivity will be; Dell will confirm those closer to launch, which is expected sometime around the holidays.
Overall, the final notebook is expected to come in at under 2.5 pounds and be less than 15mm thick, and despite this being a prototype, first impressions on build quality are positive. Carbon fiber and metal abound, and the quality of the screen – particularly its broad viewing angles, with colors staying almost consistently vivid from no matter where you look at the display – also gets the thumbs-up.
We'll know more when Dell gets a little less tight-lipped closer to the XPS 11's release.
IMAGE: Engadget