Dell Studio One 19: April US launch from $699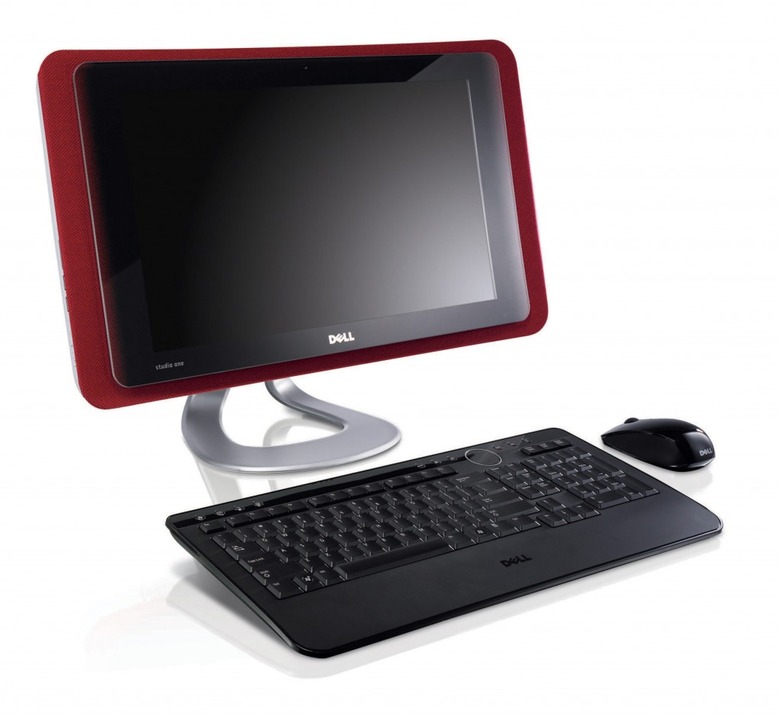 Dell USA have officially announced the Dell Studio One 19 All-in-One PC seen earlier on their Japanese site, as well as confirming that the optional-multitouch desktop will reach the US in the Spring.  The PC starts at $699, and will be available with processors from a Celeron 450 to a Core 2 Quad Q8200.
According to DesktopReview, the Studio One 19 will actually hit the US by the end of April, and the multitouch version will be priced at "under $900".  They spent some hands-on time with Dell's new multitouch interface back at CES, which consists of a new quicklaunch menu that can be called up in an arc on the display.  Other apps include a multitouch-capable finger-painting program, a webcam app called "Touchcam" which shoots video that can be "flicked" to upload it to YouTube or Facebook, and a drum machine the individual components of which can be played simultaneously.
Most of the Dell Studio One 19 specs can be tweaked to keep the price down.  RAM ranges from 1GB to 4GB, and storage starts at just 160GB and rises to 750GB 7,200rpm.  Graphics are via either NVIDIA GeForce 9200 or 9400 chipsets, and there's either a DVD burner or a Blu-ray (read-only)/DVD burner combo.  Even the 1.3-megapixel webcam and microphone are optional.
Connectivity includes six USB 2.0 (two of which are on the side), 2.1 audio output plus headphone and microphone ports, and a 7-in-1 memory card reader.  There's also 10/100 ethernet and optional WiFi b/g/n.  The whole thing measures 22 x 15.5 x 3.2 inches and weighs 22.7lbs.
Press Release:
Dell's Studio One 19 All-in-One System Fits Anywhere in the Home

ROUND ROCK, Texas –(Business Wire)– Mar 12, 2009 Dell today announced the Studio One 19, a beautiful all-in-one computer that looks just as good in the living room as it does the kitchen. The optional touch capability provides the optimal experience for moms and their kids as they peruse photos from Spring Break and other family events. The Studio One 19 is ideal for the shared computing experience, especially in family areas where people can effortlessly view and move photos, manage music and review home work.

"The new Studio One 19 is as nice to look at as it is functional," said Alex Gruzen, senior vice president of Dell's Consumer products. "More and more people are making the kitchen the center of their entertainment and computing experience and the Studio One 19 is the ideal system for that need. The Studio One 19 is about lifestyle and design and is very affordable for the family."

The Studio One 19 is made with beautiful aluminum, glass and fabric that make a style statement that people will want on display in their home rather than hidden. A single power cord means a much neater computing environment and experience. The Studio One 19 comes in several colors, including Solid Pure White, Tuscan Red, Navy Blue, Powder Pink and Charcoal.

The Studio One 19 will be available on March 19 in select Japan retail outlets including Bic Camera and Yodobashi Camera and on dell.com in Japan on March 23. The system will launch in many other countries later this spring. Starting price for the Studio One 19 is $699.

Innovative Software from Dell

Easy multi-touch photo editing, slideshow creation, playlist compilation, notes, and even web browsing.

Unleash creativity with You Paint finger painting software.

Record videos and upload directly to YouTube with the touch of a finger.

Flick to Flickr – Upload photos to Flickr to share with family and friends.

Create a musical masterpiece with the multi-touch percussion center.

†Software is optional and works with multi-touch configurations only.

Power & performance:

Intel® Celeron, Dual Core Celeron, Pentium Dual Core, Core 2 Duo, and Core 2 Quad Core Processor options

Choice of nVidia GeForce 9200 or GeForce 9400 integrated graphics[i]

Up to 4GB[ii] dual channel memory

Up to 750GB[iii] HDD

Slot load Optical drive

7-in-1 media card reader, six USB ports

Optional integrated wireless, web camera, Blu-ray Disc™

Optional multi-touch capability

Optional facial recognition security (with webcam)

Additional Information:

www.dell.com/yourblog

About Dell

People worldwide can buy Dell online, by phone and through 24,000 stores.

Offers subject to change, not combinable with all other offers. Taxes, shipping, handling and other fees apply. U.S. Dell Home and Home Office new purchases only. Dell reserves the right to cancel orders arising from pricing or other errors.

[i] System Memory & Graphics: Significant system memory may be used to support graphics, depending on system memory size and other factors.

[ii] System with 4GB Memory or Greater: Up to 1GB may not be available with 32-bit operating systems due to system resource requirements. Graphics and System Memory: Significant system memory may be used to support graphics, depending on system memory size and other factors.

[iii] Hard Drives: GB means 1 billion bytes and TB equals 1 trillion bytes; actual capacity varies with preloaded material and operating environment and will be less.