Dell Streak Review

Since the first rumors many months back, to Michael Dell flashing his prototype in the street and then a few quiet appearances at trade shows, the Dell Streak has taken its time coming to market. Running Android on a broad, eye-catching 5-inch display, there's little like it on the market and it's been an attention-grabber ever since. Yes, the Streak is a device that certainly prompts questions – among geeks and everyday users alike – but the one we set out to answer is simple: is it any good? Check out the full SlashGear review after the cut.
Perhaps the question most asked of us was "is it a phone?" Dell are at pains to insist that the Streak is an Android-powered tablet with voice capabilities – we're guessing it's easier to position your new device when you've basically got the segment to yourself – but in reality it's more difficult to classify. Contrary to expectations it's surprisingly pocket-friendly; its 220g heft will make your jacket hang unusually if you opt for the inside pocket, but we dropped it into our front jeans pocket with room to spare. If you prefer your trousers to look sprayed-on then you may have issues (not just with the Streak but with blood circulation), but the narrow 9.98mm thickness makes a big difference.
Of course, as slim as the Streak is, it's still bigger face-on than your average Android smartphone. That's to accommodate the 5-inch WVGA 800 x 480 capacitive touchscreen, and after a short while you won't begrudge the dimensions; the display is bright and crisp, and the touchscreen responsive. Physical controls are limited to power, volume and the camera shortcut along the top edge, together with three touch-sensitive keys running down the right-hand bezel for back, menu and home. The 3.5mm headphone socket is annoyingly placed on the top edge, while on the bottom there's an even more frustrating proprietary connector used for recharging and synching the Streak.
When the upcoming HDMI Dock for the Streak – which will allow it to be easily hooked up to an HDTV for media playback – goes on sale that proprietary connector will carry both power and video. We wish, though, that Dell had picked regular micro-HDMI and microUSB ports, like on the HTC EVO 4G; as the HDMI docking station for that handset shows, it's still possible to make an easy dock without bypassing standardised connectors.
Dell Streak unboxing & hands-on walkthrough:
[vms ace2124a1a836d9fc4b6]
That's our main hardware complaint, though, the rest of the Streak being pretty impressive. At its heart is the 1GHz Qualcomm Snapdragon you can find in so many smartphones of late, here paired with 512MB of RAM and 512MB of RAM. There's 2GB of system/application storage and a microSD slot (happy with up to 32GB cards) together with quadband GSM/EDGE and dualband 900/2100 UMTS/HSPA (up to 7.2Mbps downlink and 5.76Mbps uplink, network depending). You also get the usual WiFi b/g, Bluetooth 2.0+EDR and GPS, along with a digital compass, accelerometer, ambient light sensor and proximity sensor.
On the back there's a 5-megapixel autofocus camera with a dual-LED flash, while a front-facing VGA camera promises support for video calls (at least, if there was software to take advantage of it). The 1,530mAh battery is rated for up to 9.8hrs talktime or 400hrs standby.
Turn on, and you're faced with a mildly re-skinned version of the Android desktop, and here's the first big software frustration. As we've seen on customised HTC and Motorola devices before, changing Android from its basic UI generally leaves users stuck with an older version of the platform, since manufacturers have to spend engineering time getting their enhancements to play nicely with updated OS builds. Dell ships the Streak, then, with Android 1.6, a few steps behind the current Android 2.2 Froyo, and in the process users miss out on several features.
For instance, there's no Live Wallpaper, no MiFi-style 3G connection sharing over WiFi and no support for multiple Google accounts. More frustrating, 1.6's support for Exchange servers is hopeless; Dell preload a 30-day trial of Touchdown, which promises contacts, calendar and mail sync, but we do think they should've stumped up for a full version. Still, you do get Google Maps Navigation – complete with turn-by-turn spoken directions – and the newer version of the Android Market with app screenshot support.
On the plus side, Dell have committed to pushing out an Android 2.2 update in the next few months, and their UI tweaks do a reasonable job of papering over what cracks there are. Since you predominantly use the Streak in landscape orientation, most noticeable is the segmented notification bar. From left to right there's the app menu shortcut (which opens a single line quick-launch bar for your most-used software; a More button reveals the rest), network and homescreen pane indicator, the notifications section (a tap of which opens up details on new messages, software updates and the like), system status (including network activity, signal strength and battery) and then date and time.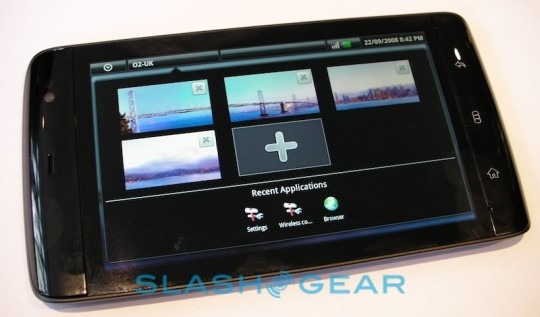 Three homescreen panes are loaded by default, though you can create new panels if you need extra space. As usual with Android devices there are various shortcuts and widgets, for instance Google search (with a voice-control button), and Dell preinstall a Facebook widget and a Twitter widget. The homescreen is pretty much the only place where there's no portrait orientation support; once you're into apps, flipping the phone upright automatically rotates the display.
It was in the first half hour of using the Streak that we realised how well trained the iPad had us. Yet to set up WiFi and sitting in a patch of London's GPRS-only coverage we stared, waiting, for a webpage to load for thirty seconds, until we realised we could navigate elsewhere, play with something else, and leave it loading in the background
This is the true meaning of multitasking, it dawned on us; not easily switching between apps "frozen" in state, but hopping from one function to another knowing that something is still churning away in the background. Apple does a great job of presenting the negative aspects of this – that churning is always blamed for using up battery life and CPU cycles – but has conceded only grudgingly, with the introduction of streaming music app background support, that there are positive qualities to it as well.
Palm's webOS is perhaps the best mobile example of all this: when you zoom out to see the running "cards" on the Pre, each is not just a snapshot of the app but a real, functioning window on what's going on. Video can keep playing, webpages loading, emails drop into the inbox. There's no mistaking that multiple things are taking place, that the system is still serving you even if your eyes can't be everywhere at the same time. Android may lack the intuitive visuals, but the core functionality is the same, and when you're trying to squeeze five tasks into the grabbed couple of minutes at a bus stop, in-between meetings or in the hallway, anything that lets you maximise that time is a godsend.
That, then, is the Streak's real strength: its brilliant web browsing experience coupled to some slick multitasking support. We quickly had the Spotify for Android app downloaded and streaming – audio quality is great, and even the standard wired headset is surprisingly good quality; of course you can also use your own or pair up some stereo Bluetooth headphones – while surfing through the Webkit-based browser. That supports multitouch for pinch-zooming, though bizarrely it doesn't respond to double-taps to automatically zoom in on blocks of text or images. Still, thanks to the broad display there's no problem reading text-heavy sites; we were able to zoom out to show the full width of the SlashGear homepage and still read individual articles. There's no Flash 10.1 support; Adobe have announced that the official release client for Android will arrive later this month, though the Streak will need its Android update before it can make use of it.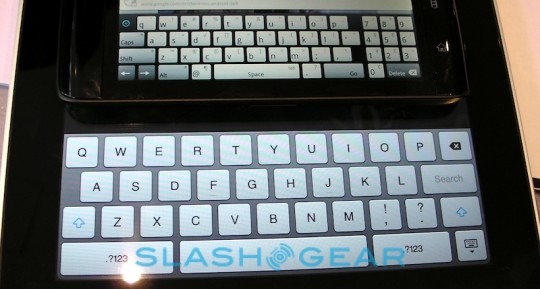 Text entry, meanwhile, is via a custom Dell on-screen keyboard, and that's somewhat less successful. In contrast to the iPad's 'board, which doesn't even fit a number row onto the main screen, Dell have squeezed a full, separate numeric keypad on the right-hand side of the regular landscape QWERTY layout. That's handy for punching in numbers, certainly, but it means the letters are significantly offset to the left for general typing; considering the natural inclination is to hold the Streak in both hands, like a PSP, and thumb-type, it's less than ergonomic. As for the portrait-orientation 'board, that shifts the numbers up above the top row of letters, as is more usual. Although our Streak arrived with predictive text and auto-correct switched off, they can be easily turned on through the settings page.
As well as browsing, the Streak's sizeable display is ideally suited to media playback. Unfortunately, Android's regular video capabilities haven't been boosted in the way we'd like to have seen; the Streak will play H.263, H.264, 3GP, MPEG4 and WMV content, but there's no native DivX or Xvid support. That makes dropping in new media a little less streamlined than it could be (plug in via USB and the Streak can be mounted like a regular external drive). Still, once you've got a file the tablet can handle, we didn't notice any issues with blurring during fast-moving scenes. Similarly, YouTube plays back full-screen and – as long as the original source is decent quality – looks good. A kick-stand would make for an ideal addition, and we're guessing we'll see at least a few aftermarket cases offering some way of propping the Streak up for hands-free viewing.
Videos – like photos – are navigated through a non-standard Android UI, in this case courtesy of ArcSoft's Mobile Media Gallery app. That can mix both types of content in the same view, separate them out, and sort them along the timeline that they were shot or loaded. As for the Streak's own camera, the 5-megapixel autofocus shooter has reasonable color balance though tends toward over-saturating images, and the shutter shows a little lag. The dual-LED flash is, like most of its ilk, mediocre, with a narrow sweet-spot in terms of range that, outside of which, photos are invariably hopelessly dark or washed out. Unlike many of the more recent handsets we're seeing, the Streak lacks 720p HD video recording, and instead maxes out at 640 x 480 VGA resolution. Clips are, again, reasonable in their quality, but they won't replace a dedicated Flip-style budget camcorder.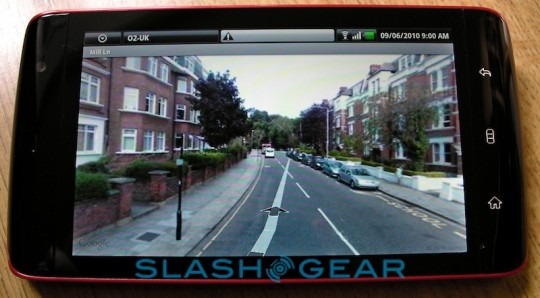 Elsewhere it's all pretty much Android as you might expect. Google Maps looks great on the 5-inch display, though there's no multitouch support, and the Streak's speaker is loud enough to make us wish Dell had included a windscreen mount for using the tablet as an in-car PND. Again, that seems something third-party accessory companies may jump in on. Voice call quality proved patchy, with callers sounding muffled at times, though that could be in part due to the Streak being slightly unwieldy when held up to your ear. You don't look as entirely foolish as you might expect, but we found it took a little while before we were proficient at lining up the tiny speaker aperture to our ear by the start of the call.
Still, Dell would have it that this is an Android tablet first and a phone later, and indeed O2 in the UK are offering it with data-only plans alongside their regular voice/data packages. Packing both the Streak and your current cellphone into a pocket seems a little like overkill to us, but if you're concerned about battery life of one or the other then doubling up would at least allow you to save your phone for calls and your Streak for browsing. Speaking of battery, we were impressed with the Streak's longevity. With heavy use – Exchange sync using Touchdown, 3G turned on, and a mixture of media playback, camera use and a few calls – the tablet lasted through a full day. As with most modern smartphones you'll be recharging the Streak nightly, but you should hopefully be able to avoid that early-evening top-up that is the shameful secret of some of the more power-hungry handsets we've encountered.
While Dell would probably rather you not compare them, as two big-name tablets on the market it's inevitable that the Streak and the iPad would be pitted against each other. The simple difference in scale makes them very different propositions, however: the Streak is, certainly, pocketable, while the iPad requires a bag of some sort. We found ourselves reaching for the iPad while browsing at home – just for the extra expanse of display – but when we went out it was the Dell that came with us. The Android Market obviously lacks the variety of the App Store, and titles for the iPad are better suited to its size than regular Android apps are to the Streak, but we've a feeling that, as tablets using the Google OS begin to reach the market, developers will re-evaluate their wares to perhaps make better use of what display real-estate is on offer.
One point where the iPad does move ahead of the Streak is in its 3G support: the iPad WiFi + 3G has a quadband UMTS modem, while the Streak only has dual-band. A second, triband UMTS version suited for North America is on the cards for as early as a July release, but the short answer is that those wishing to take advantage of high-speed connectivity on both sides of the Atlantic will likely be disappointed. Of course, you can still use EDGE and WiFi – we'd have liked to have seen 802.11n support, rather than just b/g – and voice calls will work.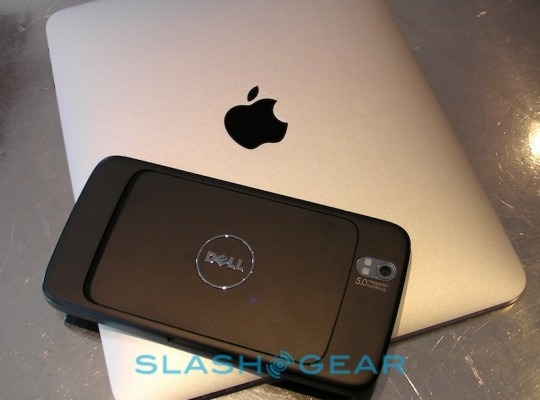 If you're content being Europe-bound, of course, the 3G issue won't affect you, and the costs of international data roaming probably mean that – unless you had a local SIM for your cross-Atlantic destination – the price of browsing would be prohibitive anyway. Our hesitation about the Streak lies more on its business functionality; as a media player it's a strong performer, but the reliance on third-party software for Exchange integration and the absence of multiple Google account support make it feel underwhelming compared to, say, a Nexus One running 2.2. Dell's UI is nicely done, but it falls short of complete Twitter and Facebook integration with contacts, for instance. The knowledge that such features are in the pipeline makes us wonder whether the sensible buyer wouldn't wait until the Android 2.2 Froyo update is, at the very least, dated for its release or – more sensible again – preloaded onto the Streak out of the box.
Still, there's much to like about the Dell Streak even at this stage. By ensuring Google compliance, Dell has delivered much of what's great about an Android smartphone – apps like Gmail and YouTube, together with access to the Android Market – with the extra usability of a bigger, MID-style display. Going from browsing on the Streak back to a 3.7- or even 4.3-inch display feels unduly restrictive, even if those handsets make more sense for voice calls. Like any tablet, the Streak is destined to be a niche product; those who fall within that niche, though, will find themselves using a device with plenty of promise and plenty to recommend it.
Note: This review was carried out on a pre-release Streak running the latest available firmware. We'll be looking at a store-version Streak as soon as one is available, and will update should any of our findings be different from this review.