Dell Streak official: O2 UK in June, US this Summer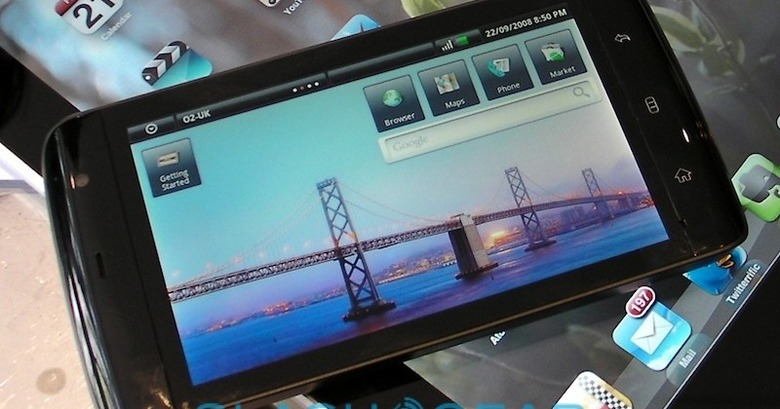 Dell have finally confirmed availability for the Dell Streak – the Android MID formerly known as the Mini 5 – with the 5-inch tablet hitting O2 UK in early June, followed by a US launch later this summer.  Packing a 1GHz Qualcomm Snapdragon processor, WVGA capacitive touchscreen, 5-megapixel autofocus camera and front-facing video camera, the Streak will also get an update to Android 2.2 Froyo with Flash 10.1 later in 2010.  Check out our hands-on first impressions – and some demo video – of the Streak after the cut.Video demo after the cut
While we've seen 5-inch MIDs before, the Streak manages to break new ground by virtue of its sheer slenderness; for once, this is a MID that you could comfortably drop into the front pocket of your jeans (assuming they're not too fashionably-tight, of course).  We've played both with a gloss red unit and the matte black that will be the first to launch, and both – despite being pre-production prototypes – felt well put together with little in the way of flex.  Navigation is swift, and Dell's customised UI – which is likely what has delayed the Android 2.2 update – makes things straightforward to use with fingers while also making the most of the screen size.  Out of the box it runs Android 1.6.
Dell Streak hands-on:
[vms 6d4357324dd7e69f3cd1]
Interestingly, while many other Android tablets are denied access to the Android Market, the Dell Streak will be able to take advantage of pretty much all the apps in there.  That's helped by its 3G voice functionality; although Dell are describing it as "a tablet with voice capabilities" it's actually a full smartphone and, if you so felt like it, could replace your existing day-to-day device.  Dell aren't quoting battery life estimates, but we've heard you can make it through a day of reasonable use on a single charge.
The Streak's wireless capabilities include quadband GSM/EDGE and dualband UMTS/HSPA (7.2Mbps), along with WiFi and Bluetooth.  There's a microSD card slot and 2GB of integrated storage, along with GPS for use with Google Maps Navigation.  Up against the iPad it's obviously far smaller, but we've a feeling more people will choose to carry the Streak in every-day life despite the reduced screen real-estate on offer.  Multitouch worked as expected and the on-screen keyboard manages to be well-spaced but also pack more buttons into a single view than Apple's version.
All in all we're excited; having seen a spate of Android tablets over the past few months, Dell's polish looks like it might have propelled the Streak to the top of the MID pack.  The Dell Streak will launch on O2 UK in early June – pricing and plans to be announced closer to the time – while the MID will arrive in the US later in the summer.
Press Release:
DELL STREAK TABLET ENTICES PEOPLE TO WATCH, SURF, CONNECT, LISTEN, AND PLAY ON 5" OF POWER AND PORTABILITY

· Streak to launch early June in the UK exclusively on O2

· Available at O2 stores, O2.co.uk, The Carphone Warehouse and later next month at Dell.co.uk

· U.S. availability to arrive later this summer

BRACKNELL, UK – May 25, 2010 – Today, Dell released plans for Streak, a 5-inch Android™-based Tablet designed to provide people the best "on-the-go" entertainment, social connection, and navigation experience. Early this June the Dell Streak will be available across the UK at O2 stores, O2.co.uk, The Carphone Warehouse, and later in the month at Dell.co.uk. Pricing and data plans for the UK will be announced by O2 ahead of availability. Later this summer, Dell plans to make Streak available in the U.S.

The Dell Streak is a compact and powerful companion for people who want to expand their ability to access their digital lives on the go, and realize tomorrow's technology today. The spacious 5-inch screen is ideal for experiencing thousands of Android Market™ widgets, games and applications, all without squinting or compromising portability. Built-in Wi-Fi, Bluetooth and available 3G connectivity brings easy access for downloading and listening to music, updating social networking status in real-time, and staying connected to friends and family through e-mail, text, IM, and voice calls.

On-the-go students, mobile professionals, and active families will find Streak's web-browsing capabilities as natural as a laptop. The 5-inch screen is large enough to present Web pages in their natural form, create a comfortable viewing experience, and make turn-by-turn navigation simple and safe. The Dell Streak leverages Qualcomm's Snapdragon™ solution with integrated 1GHz processor to combine basic functionality, performance, and benefits of a laptop in a pocket friendly size.

"The Dell Streak hits the sweet spot between traditional smartphones and larger-screen tablets," said Ron Garriques, president, Dell Communication Solutions Group. "Its unique size provides people new ways to enjoy, connect, and navigate their lives."

The Dell Streak was designed with the future in mind and will support over-the-air updates including platform upgrades, Adobe Flash 10.1 on Android™ 2.2 later this year, video chat applications and other software innovations.

Dell is a member of the Open Handset Alliance™ (OHA), a group of technology and mobile companies working together to accelerate innovation in mobility. Together, the OHA created Android, the first complete, open, and free mobile platform to provide people a richer, less expensive, and better mobile experience.

Key Features:

Integrated Google Maps™ with turn-by-turn navigation, street and satellite views

· A full screen browsing experience with a 5-inch capacitive multi-touch WVGA display

· Easily integrated social media apps: Twitter™, Facebook, YouTube

· High resolution 5 MP camera, VGA front facing camera, removable battery, built-in Wi-Fi, 3G and Bluetooth connectivity options

· 2GB* of internal dedicated storage provides plenty of space to access and download Google Android Market's many options

· Packaged with cushions made from 100 percent sustainable, compostable bamboo

Specifications:

Android platform complete with Android Market and Dell user interface enhancements

ARM-based Processor: Qualcomm's powerful and efficient Snapdragon chipset and software platform with integrated 1GHz processor

3G + WiFi + Bluetooth

UMTS / GPRS / EDGE class 12 GSM radio with link speeds of up to HSDPA 7.2 Mbps* / HSDPA

5 MP autofocus camera with dual LED flash. Easy point, shoot, and uploads to YouTube, Flickr, Facebook and more

User accessible Micro SD expandable memory available up to 32 GB*. Store up to 42 movies* or 32,000 photos*, or 16,000 songs* with 32GB* Micro SD

Follow conversations in the blogosphere: #DellStreak