Dell netbook 2009 roadmap: Mini 10 refresh, new Mini 11 coming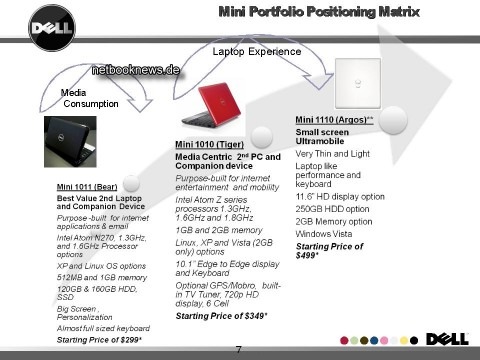 There's nothing we like more than a glimpse into a company's product roadmap, and someone leaky at Dell has delivered with news of their upcoming netbooks for 2009.  The presentation confirms both the next evolution of the existing Dell Inspiron Mini 10, together with the new 11.6-inch Dell Inspiron Mini 11 which should surface between now and the end of September.
The Dell Inspiron Mini 10 will possibly see a processor kick to the Intel Atom 1.86GHz on April 17th, if they decide they can warrant the price increase for the performance boost, together with a 250GB drive option and TV tuner.  Its successor – which Dell are calling the Mini 1010 (Tiger) – will use Intel's Z-series of Atom processors, in 1.3GHz, 1.6GHz and 1.8GHz flavors – together with 1GB or 2GB of RAM, Linux, XP and Vista OS choices, and optional GPS, mobile TV and a 720p HD screen.  It will start at $349.
As for the Dell Inspiron Mini 11 (codenamed the Mini 1110 Argos), that will be "very thin and light" with "laptop-like performance" from an unnamed processor.  The 11.6-inch screen will HD capable, presumably 720p, and there'll be 250GB HDD and 2GB RAM options to go with the Vista OS.  It'll start from $499.