Dell Mini 3i hits China Mobile later this month; specs confirmed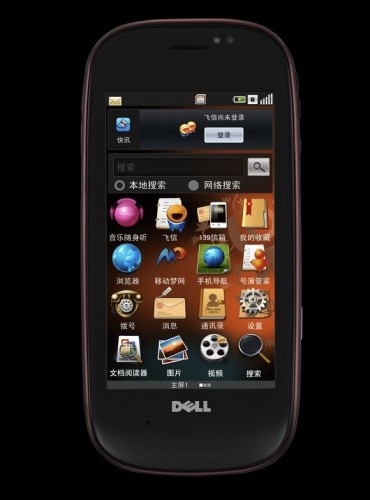 Dell may have come clean regarding their Mini 3i Android-powered smartphone earlier this month, but hard specifications for the touchscreen handset were tougher to come by.  Happily a China Mobile press release has filled in some of the technical blanks, confirming that the Dell Mini 3i headed to their shores later this month has a 3.5-inch 640 x 360 16:9 display and measures 58.35 x 122 x 11.7 mm.It also has a 3-megapixel autofocus camera with digital zoom, which can record both stills and video.  Unfortunately the lack of 3G and WiFi is also confirmed; the latter will be remedied, Dell have said, in later iterations of the handset, but the first batch was manufactured during the Chinese government's ban of the wireless technology.
Elsewhere there's Bluetooth, GPS and a microSD card slot content with up to 32GB media.  Wired connectivity is via micro-USB; unfortunately there's no 3.5mm headphones socket, though as we've seen from an early unboxing Dell do at least include a micro-USB to 3.5mm adapter.
Pricing is still not confirmed, but Dell have said that the Mini 3i – or at least a 3G variant of it, perhaps the Dell Mini 3iX already spotted navigating the FCC – will reach foreign climes at some point in the future.
Press Release:
China Mobile Becomes First to Sell Dell Mini 3i Smart Phones

The Mini 3i, in Red Passion and Oiled Bronze colors, will begin arriving across China later this month

China Mobile, the world's largest mobile operator, serves more than 500 million subscribers

China Mobile will soon become the first mobile operator to sell the Mini 3i, a sleek and slim new multi-touch smart phone from Dell designed to leverage the power, flexibility and applications of China Mobile's new OPhone and Mobile Market platforms. Available in Red Passion and Oiled Bronze colors, the Mini 3i will begin arriving through China Mobile's nation-wide channels (its authorized stores) by the end of this month and Dell direct to follow.

The Mini 3i runs China Mobile's flexible OPhone open source platform, and includes the latest in popular entertainment including pre-loaded 139Mail e-mail, Fetion chat and digital maps for navigation. A large 3.5-inch widescreen creates a big-screen experience, making photos and videos bigger and more intense. The Mini 3i is also compatible with a range of consumer applications, e-mail platforms, and office productivity software.

"People today want to carry their lives with them – they want to discover, capture and share new content as they roam around the world," said Michael Yang, vice president and general manager for Greater China Consumer of Dell. "We believe Dell's year-long development collaboration with China Mobile will amplify those experiences better than anyone else in the industry."

"This signals an important milestone in the long term partnership between China Mobile and Dell," said a China Mobile spokesperson. "We are excited for Dell to be among the first manufacturers to introduce new technology based on the OPhone platform. We look forward to working with Dell as it brings innovative new products and services to add value to our customers' lives."

The Mini 3i is the result of a year-long collaboration with China Mobile and further illustrates Dell's ongoing investment in smarter and more mobile products. China Mobile, the world's largest mobile service provider with more than 500 million subscribers, teamed with Dell earlier this year to develop a new product for the rapidly growing base of mobile broadband users in China, embedding 3G technology in the Dell Mini 10 netbook.

With the recent launch of the OPhone platform, industry analysts are estimating that the current base of 180 million mobile broadband users in China will continue to grow at a rapid pace. The Mini 3i is specifically engineered to give those customers a smart phone that delivers fast, easy and fun access to the internet, e-mail, chat, music and video.

Popular Mini 3i Features:

Entertainment: Access to China Mobile's Mobile Market suite of services, games, productivity tools, wallpapers, ringtones and applications. Discover China's popular Internet sites including 51.com, Kaixin and Renren.

Customization: Personalize MP3 ring tones, icons and shortcuts. Run widgets on the home screen: sports, stocks, news and weather tickers.

Navigation: GPS navigation.

Search: Search contacts, appointments and e-mail from the home screen.

Camera: 3 megapixel camera with zoom, auto-focus, flash, video capture and photo-editing capabilities. A 3.5 inch, widescreen (16:9), 640 x 360 display that's ideal for viewing photos and videos.

Popular Messaging: Support for the wide range of messaging platforms and services, including e-mail, IM, MMS and SMS.

Dell Mini 3i OPhone Specifications:

Form Factor: Tablet/PDA

Dimensions: 58.35 x 122 x 11.7

Display: 3.5" nHD, 640x360

Bands/Modes: Quadband GSM/EDGE

Weight: <105g (grams)

Bluetooth

GPS

Micro SD (up to 32GB)

Connector: Mini USB

About Dell

People worldwide can buy Dell (NASDAQ: DELL) online, by phone and through more than 43,000 stores.

About China Mobile

Officially established on April 20, 2000, China Mobile Communications Corporation ("China Mobile" for short) has a registered capital of RMB 51.8 billion and assets of over RMB 700 billion. China Mobile has been playing a leading role in the development of the mobile communications industry in China and holds an important position in the international arena as well. Listed among the Top Fortune 500 companies for 8 consecutive years, China Mobile's latest ranking is No.148; China Mobile was also a partner of the Beijing 2008 Olympic Games.