Dell Latitude XT Gets MultiTouch; New 128GB SSD For Dell Notebooks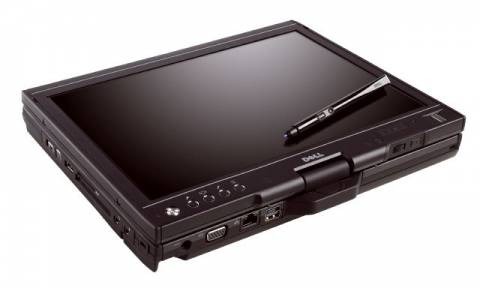 Dell's Latitude XT convertible tablet PC is getting a multitouch upgrade tomorrow, which will introduce fingertip control from multiple contact points to the notebook's capacitive touchscreen.  The XT was the first tablet PC to use a capacitive panel, and at launch could recognise both fingertip and multi-tipped pen contact.  Now it gets iPhone-style pinch zooming and two-fingered scroll control, courtesy of a straightforward software upgrade.
Video demo of the new multitouch support after the cut
The new functionality will work with all software, and includes a programmable double-tap that can trigger a shortcut or shut off the display to save power.  Dell will be making the update available free of charge.
The company also announced that it would be making a 128GB SSD an option on Precision and Latitude systems starting from tomorrow, priced at $649.  Availability will follow on XPS and Alienware systems next week.  It will join the existing 64GB SSD Dell offer, which costs the same as the larger model but boasts faster performance.
Press Release
Dell Propels Laptop Innovation with First Multi-Touch Convertible Tablet, Larger Solid State Drive

Dell Offers Free Multi-Touch Upgrade. Delivers Most Comprehensive Lineup of Systems with SSD. Company to Release Next Generation Latitude Laptops in Coming Weeks

ROUND ROCK, Texas –(Business Wire)– Jul. 14, 2008 Dell, continuing its laptop leadership, announced the industry's first convertible tablet with multi-touch capabilities on the award-winning Dell Latitude XT. Customers can download the easy-to-install multi-touch module at http://www.support.dell.com starting tomorrow.

The company is also expanding its solid state drive (SSD) leadership with availability of a 128 GB drive and said it will announce its next generation Latitude laptops in the coming weeks.

"We introduced the Latitude XT as a revolutionary product in the tablet space," said Jeff Clarke, senior vice president, Dell Product Group. "Today Dell is taking that commitment to a new level with multi-touch functionality. We plan to finish this year with 50 percent more products in our laptop portfolio and deliver innovation our competitors can't match."

Dell First to Offer Multi-Touch Capability on Convertible Tablet

Dell was one of the first major vendors to introduce capacitive touch and is now bringing multi-touch capabilities to the Latitude XT. The new capabilities include:

– Scroll – by placing two fingers on the screen and moving them horizontally or vertically customers can easily navigate in web browsers and productivity applications.

– Zoom – by touching the screen with two fingers and moving them together customers can zoom various content in and out, such as pictures or Web pages.

– Programmable double-tap – customers can program a command, such as launching a Web browser or turning the screen off to save power, that will respond to two taps with two fingers.

Dell's integration of multi-touch allows customers to use the full real estate of the screen, as opposed to just the touchpad like the Voodoo Envy 133 and Apple MacBook Air, and works with productivity applications they use every day, such as Microsoft Outlook, Internet Explorer, Google Earth, etc.

The free upgrade is easy to install with a Dell wizard that walks customers through the download process. To see a video demo of multi-touch capabilities on the Latitude XT, go here.

Dell Extends SSD Leadership with Availability of 128 GB Drive at Attractive Price Point

Dell was one of the first major vendors to deliver SSDs to its customers and leads major vendors with the broadest portfolio of client products available with the technology. The new 128 GB SSD starts at $649 and is available tomorrow in the U.S. on Dell Precision and Latitude systems. The drive will be offered on XPS and Alienware systems next week.

"We've led the industry in offering the broadest product portfolio available with solid state drive technology to help customers avoid hard drive failure – which is one of the leading causes of data loss and hardware failure," said Clarke. "With the introduction of the 128 GB solid state drive, we're delivering capacity that meets the majority of our customers' needs with increased durability and reliability at a great price."

The new drive helps solve customer pain points around price and capacity of SSD technology. Customers get double the capacity of Dell's 64 GB ultra-performance SSD offering for the same price.

SSDs are eight-and-a-half times more shock tolerant(1) and have a predicted reliability more than three times that of standard notebook(2) hard drives. Dell also offers a 64 GB ultra-performance SSD that delivers up to 22 percent better performance than a 7,200 RPM hard disk drive.(3)