Dell Latitude XT "World's Thinnest Tablet"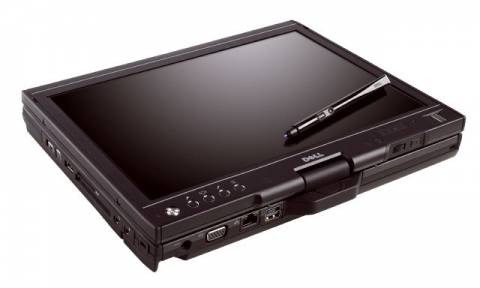 Well, for now it's the world's thinnest tablet, it's also supposedly the world's lightest tablet to come to market at under 4 pounds. The best part, Dell with be taking orders and shipping the product by the end of the year.
That's right, which means you could have yours before you ring in the New Year. Now for the specs, you get your choice of Intel Core 2 Solo ULV U2100 at 1.06GHz or Intel Core 2 Duo ULV U7600 at 1.2GHz. You get a 12.1-inch WXGA LCD that can be optionally back-lit by LEDs which should give you not only a better picture, but save some battery life.
The graphics are controlled by an integrated ATI Radeon X1250 UMA video adapter, and all systems come with at least a gig of RAM, you can get up to 3 gigs if you want though. For and HDD, you get your choice of 40-120GB HDDs or 32 and 64GB SSDs. You can use your fingers on the screen or the digitizer pen with which you can erase marks, or even change the tips for different functionality and such. For an OS you can get Vista Business or Ultimate or XP Tablet Edition 2005. Lastly, you get your choice of wireless ranging from just 802.11G all the way up to A/G/N, Bluetooth, or your choice of EV-DO from Verizon, Sprint, or Telus. That's all for today folks, I bet some of you can't wait to get your hands on one.
Latitude XT Details [via Direct2Dell]