Dell Latitude ST and Streak Pro tablets detailed; CEO predicts Android will squash iPad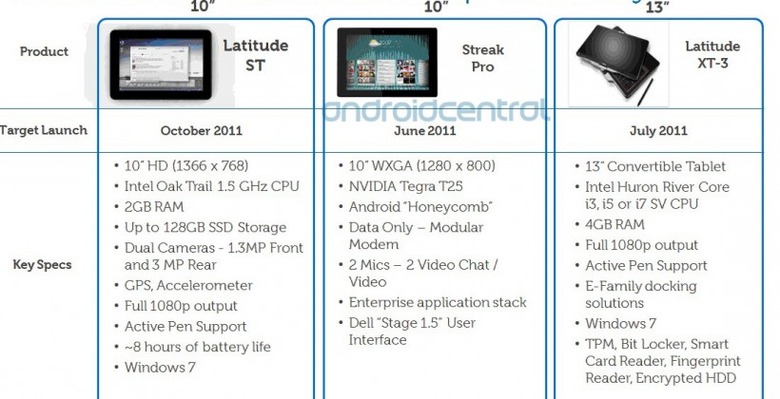 Details of two 10-inch Dell tablets, one based on Intel's Oak Trail and the other on NVIDIA's incoming Tegra T25, have emerged. According to the tablet roadmap, acquired by Android Central, the Dell Latitude ST is expected to arrive in October running Windows 7 on a 1.5GHz Oak Trail chip, while the Dell Streak Pro will run Android 3.0 Honeycomb on the Tegra T25 and land in June. The leak comes amid Dell CEO Michael Dell admitting that he "didn't completely" predict the "rapid rise of the tablet" and predicted that Android would squash Apple's iPad.
Asked whether he thought Android tablets would end up outpacing Apple's iPad – something analysts don't expect to take place for several years – Dell was confident the Google platform would eventually dominate the market. "Not tomorrow. Not the next day." he said, "But again, if you look at 18 months ago, Android phones were like, "What is that? And now there are more Android phones than iPhones. I don't see any reason why the same won't occur with Android tablets."
The Dell Latitude ST has a 1366 x 768 display, 2GB of RAM and up to 128GB of storage. There are dual cameras – 3-megapixels and 1.3-megapixels – along with GPS, an accelerometer, 1080p output and an 8hr battery. Dell is also toting the "active pen support" which sounds a lot like the active digitizer on the ASUS Eee Slate EP121, only paired with longer battery life thanks to the power-sipping Intel CPU.
As for the Dell Streak Pro – previously codenamed Gallo and tipped for a Q2 release – it will have a 1280 x 800 display, a modular – presumably GSM or CDMA – data-only modem, twin cameras and microphones, and an "Enterprise application stack" along with Dell's Stage 1.5 UI. The latter is presumably the sync-enabled update Dell recently told us was incoming. According to the document's source, Dell is also considering both USB Host and USB Client support, along with an ethernet-equipped dock, both of which would be useful for the enterprise market.