Dell Inspiron Mini 11 Set For Summer Release?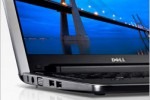 We don't know if this for real or not, but the Internet is abuzz with a rumor that the Inspiron Mini 11 will be shipping sometime this summer from Dell according to DigiTimes.
A lot of this is based on hearsay, but it seems to be legit. For instance, Compal is saying they have received orders for an "ultra-thin notebook" from Dell that relies on the Consumer Ultra Low Voltage processor from Intel.
These notebooks are set to be released in August and bear much of the same specs as the Mini 11. This CULV system will feature a 250GB HDD, 2GB RAM, and an 11.6-inch display. But of course, we'll just have to wait and see if this pans out.