Dell Inspiron Mini 10 on sale now from $399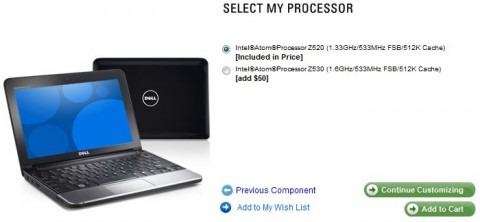 From a behemoth of a Dell to a much smaller proposition: the Dell Inspiron Mini 10 netbook has finally gone on sale in the US.  Having shown up on the company website at the tail-end of last week, the 10.1-inch netbook is now available preorder, with the earliest preliminary ship-date being April 2nd.
The Inspiron Mini 10 starts from $399, and there's a little customization available.  As standard the netbook uses Intel's Atom Z520 processor running at 1.33GHz, but you can step up to the 1.6GHz Atom Z530 for $50; RAM and storage are fixed at 1GB and 160GB 5,400rpm SATA, respectively, however. 
Dell will sell you an alternative case color, if you're not fond of black: $30 gets you your choice of "alpine white", "new cherry red", "ice blue", "jade green" or "promise pink", and if you go for the latter the company will donate $5 to the Susan G. Komen for the Cure charity.  Otherwise you're stuck with WiFi g, a built-in webcam and a 3-cell, 24WHr Li-Ion battery.
[Thanks Andrea!]