Dell Inspiron Mini 10 720p screen option available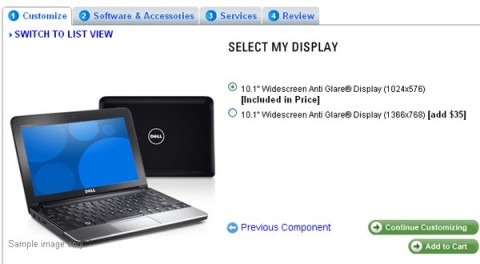 Dell have finally given Inspiron Mini 10 buyers the option to upgrade to an HD-capable display.  The 720p screen – which runs at 1,366 x 768 rather than the standard 1024 x 576 – was announced along with the Mini 10 itself back in February, but has taken until April to appear as an option.
Looking at the price difference, those extra pixels seem pretty cost-effective.  Dell are charging $35 to upgrade the screen, taking the cheapest Inspiron Mini 10 configuration with the 720p option to $434.  That gets you Intel's Atom Z520 1.33GHz processor, 1GB of RAM, a 160GB hard-drive and integrated WiFi b/g.
Early reviews of the Dell Inspiron Mini 10, though, suggest that you may have mixed results.  When LaptopMag tested out the 1.6GHz version of the netbook, they had trouble playing back smooth 720p content through the HDMI port; it remains to be seen whether playback will be any better on the netbook's own display.
[via Engadget]