Dell Athens & Sparta Netbooks Tipped, Plus Looking Glass Pro HD Tablet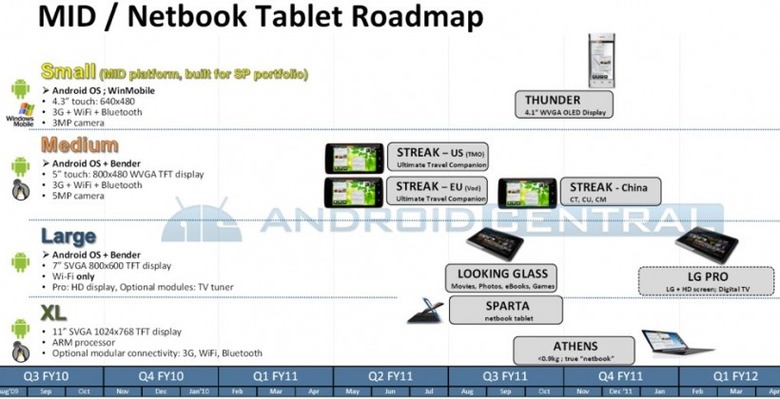 Dell have been piloting a pretty leaky ship recently, with smartphones and tablets spilling out all over the place, and next up are the company's MID, netbook and tablet intentions.  AndroidCentral have acquired an image showing that Dell plan a convertible netbook/tablet, the "Sparta" in Q3 2011, which will have a nifty rotating touchscreen that pivots within its bezel, and a "true" netbook, the "Athens", later that quarter.  Going by the logos, they'll be available either with Android or Moblin (though we're guessing the latter was used prior to the Nokia/Intel MeeGo announcement).
All of the devices on the list are based on ARM processors, though there are no specifics as to which chip might slot in where.  From the leaked ARM roadmap last week, though, we do know that the Q3 2011 period would fit in well with the new dual-core 800MHz "Orion" Cortex A9 chipset.  Both the Sparta and Athens appear to have 11-inch 1024 x 768 displays with optional 3G, WiFi and Bluetooth connectivity.
There's also a second version of the 7-inch Looking Glass tablet from last week, the Looking Glass Pro (or "LG Pro" on the roadmap), with an HD display and integrated digital TV tuner.  That's tentatively expected in January 2011, five months after the Looking Glass (which has an 800 x 600 display) arrives.  Finally, the Dell Streak (aka the Dell Mini 5) is due in the US (on T-Mobile) and in Europe (on Vodafone) in the summer, with a Chinese version following on after that.  The Streak also gets both Android and Moblin logos, suggesting we may see a MeeGo version of that, too.