ARM CPU roadmap leaks: Taurus Cortex-A8 in 2010, quadcore 1.2GHz Cortex A9 in 2012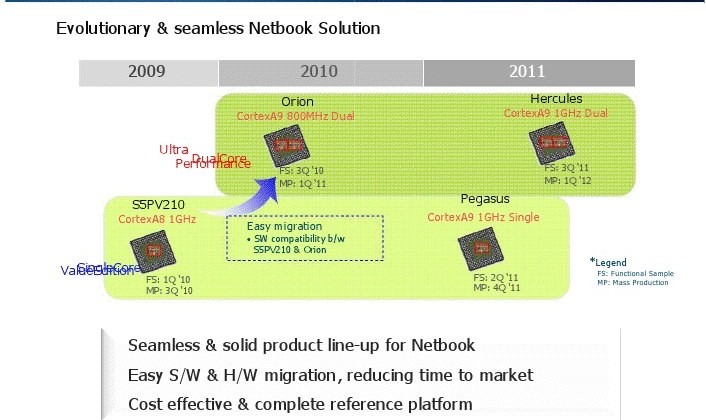 The City may be warbling about Apple acquisitions, but may be ARM too busy planning their mobile processor roadmap to care.  A leaked Samsung document acquired by EETimes has confirmed multiple generations of CPUs between now and 2013, including the single-core 1GHz S5PV210 "Taurus" Cortex-A8 tipped to hit mass production in Q3 2010, a 1GHz "Hercules" dual-core Cortex-A9 expected to arrive Q1 2012, and a 1.2GHz "Aquila" quad-core Cortex-A9 which should drop in 2012/2013.
There's also the "Orion", an 800MHz Cortex-A9 expected Q1 2011, the "Pegasus", a single-core 1GHz Cortex-A9 due Q4 2011, and the "Mercury", a 600MHz single-core Cortex-A5 (Sparrow) chip predicted for sometime later this year or in 2011.  The Aquila, meanwhile, will be accompanied in 2012/2013 by the 600MHz Cortex-A5 dual-core "Venus" and the 1.2GHz Cortex-A9 dual-core "Draco".
As for Samsung's part in all this, the company looks to be planning to use the ARM chipsets instead of Intel processors in their upcoming netbook ranges, together with A/V equipment and smartphones.  It's unclear what GPU Samsung will be pairing the chips with, whether they'll continue to use the PowerVR series as found in the iPhone 3GS, or switch to ARM's Mali GPU.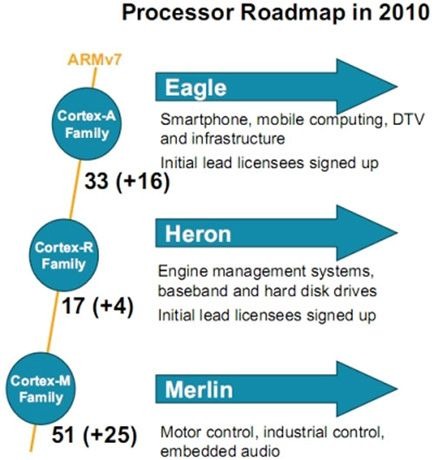 [via NotebookItalia]