Dell Adamo vs MacBook Air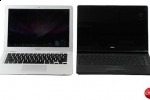 Buyers will have to wait until March 26th to see their Dell Adamo, but CNET have managed to score Dell's latest ultraportable early and, knowing what most of us are interested in seeing, have set up a shoot between it and the Apple MacBook Air.  Both are competitors for the "thinnest laptop in the world" title; on paper the Adamo clinches it, at 0.65-inches, but in the metal the non-tapered chassis looks chunkier than the curved Air.
As for the Dell Adamo on its own, they found it to be sleek and nicely designed, though the keyboard – which has keys more like the Dell Mini 9 netbook – flexed noticeably in the center.  That's likely to be tweaked in final production hardware; what hopefully won't change is the metal trackpad, which CNET call "very good".  The glass-covered display is as glare and reflection susceptible as you'd expect, and at 1,366 x 768 Dell's claim of "HD" resolution will disappoint anyone hoping for native 1080p.
CNET have also been talking to Dell's design team about the Adamo's clever magnetic cover, and the licensing regulations (Microsoft's and the FCC's) that demand stickers must be "accessible to the end user without the use of tools to see it."  For most notebooks that means they end up stuck to the underside, but with the Adamo Dell condensed as much information as could be into tiny etched text, and then put inescapable stickers like the Windows COA under the magnetic piece.
The Dell Adamo is available to preorder now, priced from $1,999.  More details here.