Dell Adamo Gets Video Unboxing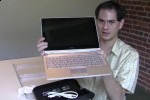 Have you had enough of the Dell Adamo?  No, of course you haven't, so settle back and enjoy Notebooks.com's unboxing video of the luxury ultraportable.  Xavier has also shared some first impressions and, while Dell has come a long way from mainstream Inspirons with the Adamo, it doesn't sound like they're quite all the way up there in the MacBook Air league yet.
Unboxing video after the cut
Most of the Adamo's pros are obvious: its "world's thinnest" size, for a start, with a lower half that – as the photo in the gallery below shows – is almost the same thickness as the iPhone 3G, and then the attention to detail.  The backlit keyboard gets credit too, which is ironic because the LED screen backlighting is a riot of light leaking whenever it's touched.  The performance is another obvious issue: under the wafer-thin hood there's a mere Intel Core 2 Duo 1.2GHz U9300.
Of course, the biggest drawback is the price, and as Xavier says it's really not the best time to be launching a $1,999+ ultraportable.  Global recession or not, though, the 13-inch Adamo promises to be the first of at least a few new Dell machines, so get used to nifty magnetic flaps and etched casings.