DEF CON uninvites Feds after NSA PRISM backlash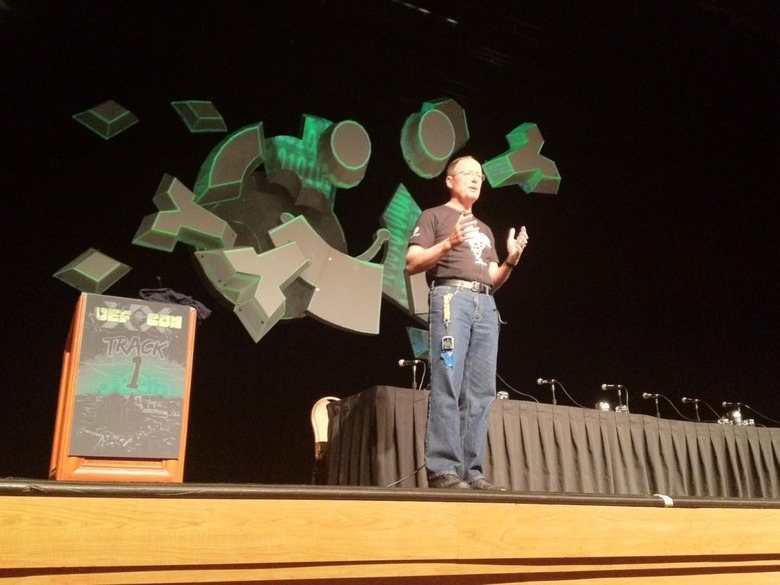 Organizers of DEF CON 2013, the annual hacking convention, have told the US federal government not to attend, after revelations about the NSA PRISM program and other surveillance activities have left the security community wary of the feds. In a post on the conference's homepage, DEF CON founder Jeff Moss (aka "The Dark Tangent") said that, while traditionally DEF CON has been open to a low-key federal presence, this year the various agencies should sit the show out.
"This will give everybody time to think about how we got here, and what comes next" Moss suggests.
The decision to uninvite – even if the invitation was only ever implied – the US government is a marked turnaround from previous years at DEF CON. In 2012, in fact, the keynote speech – which you can watch below – was given by NSA director Keith Alexander, on the topic of "Shared Values, Shared Responsibilities".
Now, with details of the far-reaching grasp of PRISM and the extent of FISA requests to companies like Google, Microsoft, and others becoming public knowledge, the extent to which those values are actually shared is coming into question. "When it comes to sharing and socializing with feds, recent revelations have made many in the community uncomfortable about this relationship" Moss writes.
"Therefore," the organizer says, "I think it would be best for everyone involved if the feds call a "time-out" and not attend DEF CON this year."
It's entirely possible that representation from the federal government and its security services may still attend DEF CON, albeit in an even more clandestine way than usual. Attendees have traditionally played "Spot the Fed", security specialist VIA Brian Krebs points out, and the stakes will be even higher this year.
Nonetheless, the fall-out from PRISM and other schemes continues, with greater international attention being paid to exactly what the US is monitoring, and how it treats whistleblowers like Edward Snowden. The former NSA contractor is expected to find asylum in Venezuela, though no official statement on the matter has been made.
IMAGE: Wired