Deezer becomes even more mobile with CarPlay integration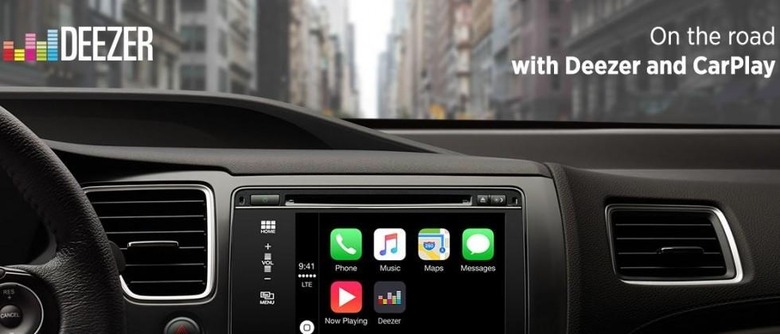 Apple's long expected entry into the music streaming biz has served as a wake up call to many existing services who are now feeling a challenge to the status quo. Many have started pushing out changes to their subscription tiers or new features to their services. Deezer is, of course, no exception. Just last week it rolled out an update to its Android app that brings it in line with modern Google design, not to mention the iOS app. Now it is also announcing its next frontier, to take over your cars via Apple's CarPlay.
The age of sophisticated, hi-tech cars are upon us. Some are able to drive by themselves. Others just add a little push to human control. Almost all of them have one form of smart, infotainment system installed. Unsurprisingly, Google and Apple have brought their mobile wars to cars, pushing Android Auto and CarPlay as the platform of choice to add some pizazz to your vehicle.
For this round, it is CarPlay that's the winner. Deezer's integration with the in-vehicle system gives iPhone users access to 35 million songs, all of which they can play and control hands free, which translates to safe, distraction-free driving. They can even access their music when offline, perfect for travels where Internet connection isn't a sure thing.
Some of Deezer's features also make a lot of sense inside the car. For example, its Flow discovery removes that awkward silence when you can't make up your mind which tunes to play. But if you're in a a certain mood, the service's Mixes might just have the right playlist to match.
Sadly, CarPlay integration won't be available to all Deezer users. Only those in the Premium+ and Elite tiers will be able to enjoy this new level of music mobility. Whichever tier, however, they will need an Apple device running iOS 7.1 or higher to enjoy Deezer on CarPlay.