Deadpool DVD and 4K Blu-ray release detailed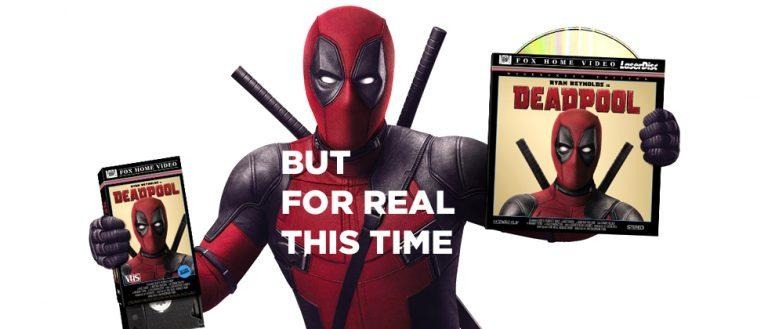 The Blu-ray DVD combo-pack as well as the fully massive 4K version of Deadpool are coming on the 10th of May. Today the folks at 20th Century Fox Home Entertainment have suggested that both versions of the film will be released on the 10th of May "with maximum effort" – their words, and Deadpool's. This release of the movie will have so many extra bits and pieces that you'll freak out fully.
The image you're about to see shows how many fancy features you'll get on a disk. Or on two disks? Whichever you pick up. You'll need the Blu-Ray to roll right with this bit.
"Hold onto your chimichangas, folks," says our friendly 20th Century Fox Home Entertainment friends, "From the studio that brought you all 3 Taken films comes DEADPOOL, the block-busting, fourth-wall-breaking masterpiece about Marvel Comics' sexiest anti-hero: me!"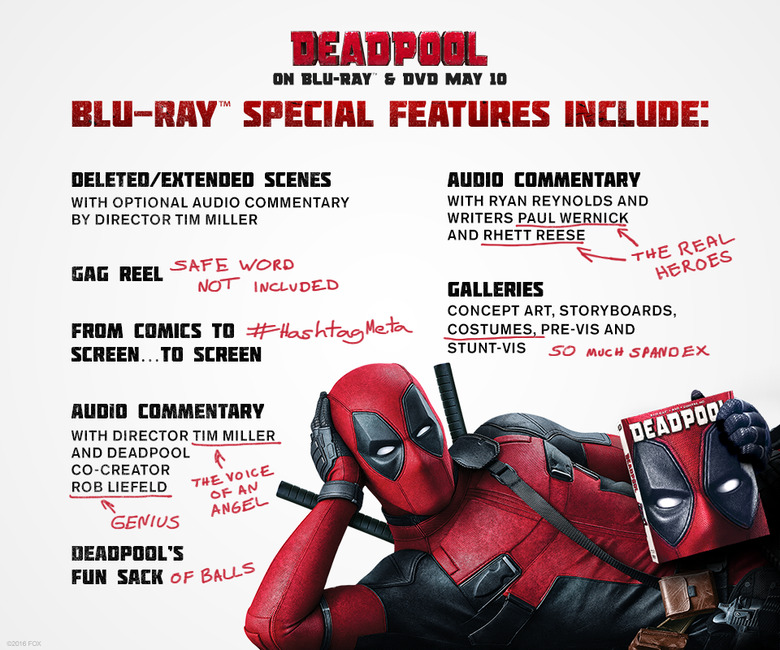 They say that Wade says that you'll "Go deep inside (I love that) my origin story...typical stuff...rogue experiment, accelerated healing powers, horrible disfigurement, red spandex, imminent revenge."
"Directed by overpaid tool Tim Miller," continues mister Pool, "and starring God's perfect idiot Ryan Reynolds, Ed Skrein, Morena Baccarin, T.J. Miller and Gina Carano, DEADPOOL is a giddy slice of awesomeness packed with more twists than my enemies' intestines and more action than prom night. Amazeballs!"
If you've not already seen the film in theaters – how dare you? If you have – or haven't, whatever – you'll be geared up to see it again – or for the first time. You'll see it SO many times.
While we know the DVD Blu-Ray pack is coming on the 10th, we do not know the price. You can probably guess the price, but we'll leave that to you. Good luck finding the 4K Ultra HD Disc version of the film too – no details yet on the when or where of that – but we DO know that it exists!